– Chris Demasi
REA Group lead the shift in property classifieds from offline to online, becoming the dominant property portal in Australia with its realestate.com.au website, but few realise its massive data advantages.
Realestate.com.au revolutionized the way Australians buy and sell homes, and today more than 12 million people each month visit the website on their desktops, mobile phones, or through the app that has been downloaded on over 10 million smartphones.
Realestate.com.au monthly unique audience (m)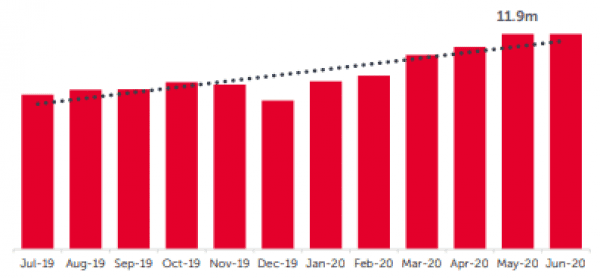 With the country's largest property audience comes the highest levels of engagement. The realestate.com.au site recorded over 114 million visits in June, more than triple Domain, the nearest competitor.
Every time property seekers come to its website, REA is learning more and more about them to deliver a continually improving and personalized experience. For instance, this year REA launched its "Next best action" feature, targeting property owners and first home buyers to progress their journey from search through to sale.
Consumers are recognizing the value REA can offer and are actively opting into a closer relationship together. More than 1.8 million active REA members have signed up to accounts, and track over 1.9 million properties.
By capturing more detailed consumer preference data REA can make its website more relevant and more important to property seekers, keeping their attention around listings and content for longer, and ultimately serving them the property that they will one day own.
REA's lead in the market will continue to extend the more data it has, and the greater its lead the more data it will have. REA is a winner for decades and a key holding in the Montaka portfolios.
Montaka owns shares in REA Group.
Chris Demasi is a Portfolio Manager with Montaka Global Investments. To learn more about Montaka, please call +612 7202 0100.