-Lachlan Mackay
Pandemic-related digital transformations of major developed economies have inspired extensive analysis of listed tech companies, many of which are now pricing in extraordinary growth projections. With less fanfare but a much longer runway ahead, emerging economies such as Latin America and India have had similar accelerations of e-commerce and mobile communications investment.
Latin America is home to some 600 million people, a third of which live in Brazil. E-commerce penetration in Brazil was less than 5% in 2019; now the entire Latin American region is expected to reach almost 10% by the end of 2020. That compares to the US, home to much of today's prevailing excitement, where eMarketer estimates e-commerce will jump from 11% to just over 14% of total retail sales from 2019 to 2020.
Nasdaq-listed MercadoLibre operates the most popular e-commerce site in Latin America. Founded in Argentina during the 1999 dotcom boom by then 28-year-old Marcos Galperin, MercadoLibre partnered with early investor eBay to build out online marketplaces and auction sites throughout the region. The pandemic environment has been a welcome acceleration to business after helping underinvested economies to adopt a range of technologies over the past two decades, from the internet to smartphones to digital payments.
Still leading the company today, Galperin told the Financial Times, "This pandemic has moved us forward maybe three to five years." He echoes other global tech CEOs, including Microsoft's Sundar Pichai and Shopify's Tobi Lutke, who have acknowledged the extent of the digital acceleration in progress.
MercadoLibre recently reported third quarter results that comfortably exceeded analysts' expectations. Highlights included total active single users rising 92% year-over-year to 76 million, a fraction of the approximately 450 million Latin Americans over the age of 15. Despite their region-wide presence, about 95% of revenues are generated in Brazil, Argentina and Mexico. Fintech arm MercadoPago processed US$14.5 billion in payments, growing 92% or 161% in constant currency (which illustrates one of the risks in investing in emerging economies).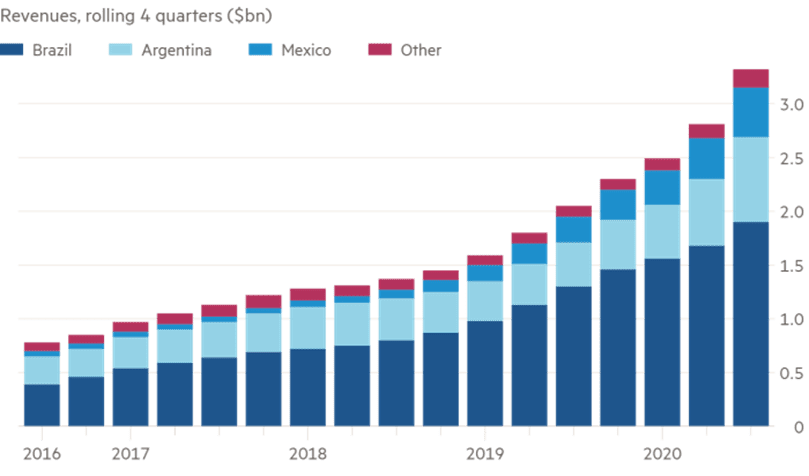 Source: Financial Times; Bloomberg data
Regarding fintech, Galperin noted that "almost everything remains to be done" in Latin America. Loans, insurance, asset management, mobile payment networks and other services we take for granted are all significantly underpenetrated as almost half the region's population are still unbanked.
Percentage Banked Population by Country – Latin America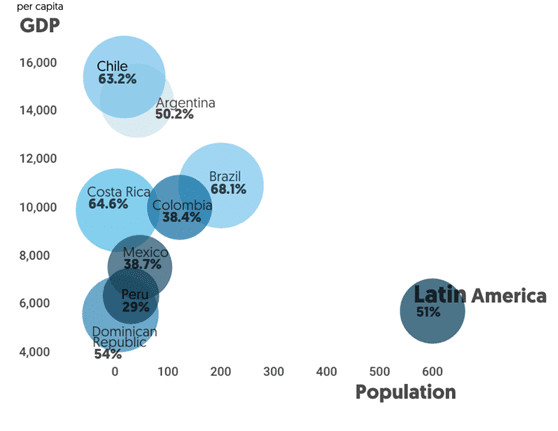 Source: EBANX; World Bank data
India is a unique story requiring its own case study to fully appreciate (I recommend Packy McCormick's bullish two part deep dive – part I and II). The centrepiece of their emerging internet economy is Jio, owned by national conglomerate Reliance Industries. Jio is building an India-wide 5G network alongside a super app, which is being designed with partners to operate much like WeChat does in China with a full suite of integrated digital services and Internet-of-Things capabilities.
Having banned would-be-competing Chinese businesses from their economy out of security concerns, it appears the digital transformation of the world's largest population will be largely home-grown through Reliance Jio and its partners. The pandemic that was especially tragic in India, featuring the world's largest lockdown. Amid the devastating conditions, Jio cemented partnerships with Western companies already prevalent in India such as Facebook and Google in a US$20 billion fundraising spree (chart below).
Facebook's WhatsApp has its largest customer base in India, already commanding around 400 million MAUs. Partnering with Jio will likely help them navigate the regulatory hurdles they have struggled with as they attempt to expand their offering, and may even lead to WhatsApp forming the base of Jio's super app. Jio can form the gateway that grants foreign investment into the Indian market while allowing the Indian government control over the internet and a share of the profits.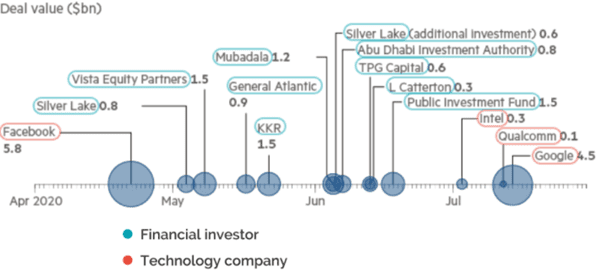 Source: Financial Times
Emerging digital economies such as Latin America and India have accelerated in their bid to catch up to major developed nations, taking advantage of a unique year by investing strongly. Despite their vastly distinct pathways and numerous challenges ahead, the next decade will be an exciting and opportune phase for these rapidly growing regions. We look forward to finding and participating in the growth of long-term winners as and when they present themselves.
Montaka owns shares in Facebook and Alphabet.
Lachlan Mackay is a Research Analyst with Montaka Global Investments. To learn more about Montaka, please call +612 7202 0100.