-Amit Nath
As we emerge into the post-pandemic world and seek to reestablish our daily routines, we wonder what will return to "normal" and what will be forever changed.  One such area that many of us will revisit, will be our fitness routines and the role public gymnasiums play in them going forward.  It is certainly clear that COVID-19 created a hole in people's fitness requirements which shifted into homes and out of gyms, however the question remains whether this will reverse over time (transient demand) or if the change will prove more durable (acceleration of adoption).
Using the U.S. (part of North America) as a case study of fitness trends across advanced economies, we observe 64.2mm people or ~20% of the U.S. population had a gym membership prior to the pandemic (2019) and global gym memberships stood at ~183mm at the same time.  As we moved through the worst of the pandemic an interesting survey of U.S. consumers was conducted by RunRepeat (in September 2020) which indicated ~20% of U.S. gym members (~13mm people) had cancelled their memberships and a further ~40% (~26mm people) were considering cancelling.  In fact, a LifeAid survey (June 2020) showed that over 40% of consumers actually preferred their home gym setup more than their paid fitness club experience.  Given the investment consumers have made establishing these home gyms and the greater utility they derive from them, it will be a difficult task for fitness clubs to reacquire these customers without a material improvement in the value proposition. This will likely take the form of cutting prices or providing more services, both of which will likely be margin dilutive initiatives as fitness clubs look to simply stand still and retain customers (which may prove to be a futile endeavor if consumer demand has permanently shifted).
Global Health and Fitness Club Members (millions)

Source: IHRSA, Statista, Bernstein
One of the biggest beneficiaries of the in-home fitness shift has been the popular home cycling and treadmill business, Peloton.  Through the wonders of the internet and from the comfort of people's living rooms, Peloton offers ~40 new classes per day (~1,200 per month) across cycling, running, yoga, strength, etc which can be taken live or on-demand. While previously Peloton may have been considered a workout option for the top 1%, requiring a $2,000-$4,500 upfront investment in a bike or treadmill, this pain point was significantly alleviated with the introduction of financing options through "buy-now-pay-latter" services like Affirm. This spread the cost of ownership over ~3 years with the connected fitness subscription layered on top, making the all-in price of having a Peloton ~$100 per month, and inline with a premium gym membership.
Cost of Peloton Equipment including Connected Fitness Subscription ($ per month)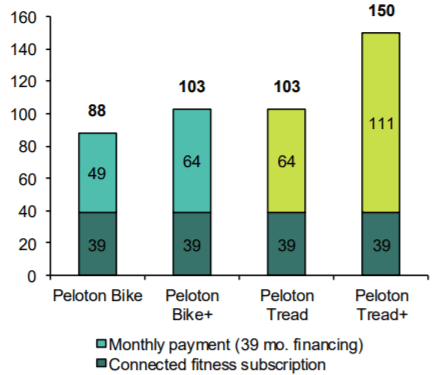 Source: Peloton, Bernstein
Within the United States about 15% of gym members spend more than $100 per month on gyms (~9.6mm people) and another 20% (~12.8mm people) spend $50-100.  If we were looking at a direct substitution of Pelotons for gym memberships on price, then perhaps the addressable market would lie between 10-20mm subscriptions.  However, Peloton equipment is on average used by 2.5 people per household, which makes the cost of ownership far more compelling for households with people spending $20-50 per month each (effectively $50-125 per month in aggregate), opening up another ~37% of gym members (23.8mm people) to a Peloton subscription.  Making the Peloton equation perhaps even more compelling is the fact that after ~3 years the equipment is paid off and you own a physical asset with the monthly cost falling by ~60% (to $39 per month).  This potentially makes the offering of interest to another ~23% of gym members (14.8mm people) that are part of households spending under $20 per month each.  It's worth noting that Peloton had ~1.7mm connected fitness members globally at the end of 2020, an increase from~ 0.7mm at the end of 2019 (+134% YoY) and added ~1mm members during the pandemic.
Monthly Spend on Gym Membership (U.S.)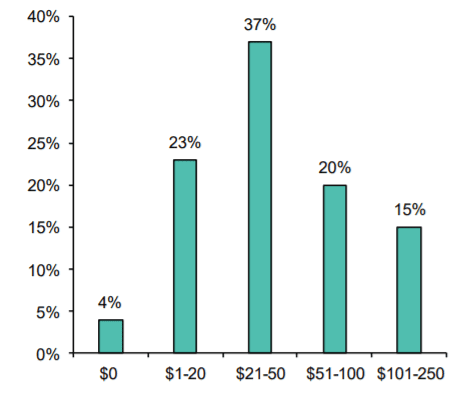 Source: Statista, Bernstein
Another viable customer may be the more cost-conscious consumer, who may opt for a standalone connected fitness subscription and bring their own bike / treadmill or focus on yoga, Pilates, strength classes, etc with no equipment at all.  At a price of $39 per month this makes the value proposition quite compelling for thriftier households, while allowing them to participate in the Peloton online fitness community and social network for motivation.
Beyond gym members, Peloton estimates that ~5 million treadmills and ~3 million stationary bikes are sold in the U.S. each year and 35 million households already have a treadmill but are largely gathering dust, as there is no human element or social contract attached to them to get people coming back to their workouts.  Additionally, Peloton may attract customers that are not current gym members or have an existing home gym, but are interested in health and fitness, which is a very broad market indeed. As we look beyond the pandemic, regular gyms will likely face some challenging conditions as they seek to reestablish consumer habits which have seemingly migrated towards convenient, better value and more enjoyable at-home alternatives.
At Montaka Global we have a single clear goal: to maximize the probability of achieving multi-decade compounding of our clients' wealth, alongside our own.  We are confident we have the right structure and people to endure and succeed for our clients.
Amit Nath is a Senior Research Analyst with Montaka Global Investments. To learn more about Montaka, please call +612 7202 0100.