Our new investment whitepaper rejects the thesis that 'tech is dead'.
We argued that, far from dying, tech is entering a new phase of dominance and growth. New, transformational waves of tech innovation, particularly in AI, will fuel that growth.
But despite this outlook, many leading tech stocks had pummeled in 2022 as investors overweighed short-term macro factors.
The disconnect between a bright new future for tech, and rock-bottom valuations, created one of the most compelling investment opportunities in our lifetime.
The scenario we outlined in our whitepaper mirrors the 2000-01 dot-com crash and the global financial crisis (GFC) of 2008 when long-term winning tech companies experienced big drawdowns, before recovering and providing investors with remarkable returns.
Stock price drawdowns from prior 2-year high

Source: Bloomberg (as at December 2022)
Of course, not all tech companies have long-term durable advantages and investors need to be selective.
But when we examine businesses like the following five that combine huge growth opportunities with cheap valuations, we can identify attractive investment opportunities.
1. Amazon
Amazon has three pillars – Marketplace, Prime and AWS – where the company is the leading player in large, rapidly growing and economically attractive global markets. With AWS, Amazon is the global leader in cloud and distributed computing, a market that will see its revenue more than quadruple over the next decade as more big organisations increase digital capabilities, the Internet of Things (IoT) explodes, and the growth in new (compute-intensive) AI-based applications accelerates.
2. Microsoft
Microsoft has ubiquitous digital monopolies in Windows, Office and more recently, is a founding member of the cloud computing oligopoly via its Azure platform. Given its unique position within governments and enterprises globally, it has a unique vantage point and collects 24 trillion threat signals per day, which inform its AI-based cyber security apparatus, allowing it to lead the industry. The digital transition to cloud computing has increased Microsoft's mission-critical standing with its customers and is expected to capture an outsized share of the US$6 trillion in incremental annual IT spend over the next decade as it democratizes numerous AI-enabled solutions for its customers.
3. Alphabet
Alphabet's Google and YouTube furnish it with the richest and most valuable datasets (video and language) for AI model development. AI has enhanced all areas of Alphabet's business for decades and is a key driver behind its unambiguous success in digital advertising. Alphabet's emergent cloud computing business and seat at the hyperscaler table has opened a significant new channel for the group to monetize its AI capabilities. Alphabet now has the potential to disrupt entirely new industries and add fresh revenue streams in areas such as energy, biotechnology, self-driving cars, and beyond.
4. Salesforce
Salesforce, the world's leading customer relationship management platform, unlocks enormous productivity for customers who, on average, experience a 25% boost in sales and 26% reduction in IT costs after implementation. Its solutions are core to the digital central nervous system of almost every enterprise on the planet. Salesforce also houses some of the most commercially sensitive and mission-critical datasets for its customers. Leveraging this privileged data position, its AI engine, named Einstein, delivers 75 billion predictions each day to help customers optimize their businesses. Recently, Salesforce created a new data platform called Genie, which allows customers to expand their datasets and incorporate myriad real-time streams from Google, Meta and Amazon into their sales and marketing processes.
5. Spotify
Spotify is the world's largest digital audio platform with nearly half a billion users worldwide – yet the business is still only at break-even. Spotify represents a great investment opportunity because of its substantial future earnings power. Spotify's unified audio platform – home to music, podcasts and audiobooks, several different monetisation models, and its AI-enabled personalization engine – is now largely complete. Therefore, over the coming years, we expect significant new monetisation opportunities to be layered on to Spotify's existing platform with significantly reduced need for additional overhead. The result? Substantially higher future profits – which are not being reflected in today's stock price.
To request a copy of the full whitepaper, please share your details with us: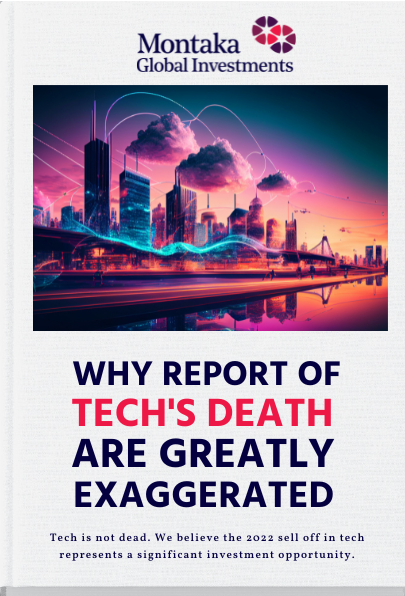 Note:
Montaka is invested in Amazon, Microsoft, Alphabet, Salesforce and Spotify.