– Christopher Demasi
Today I was asked about the so-called lofty valuations of technology companies, and if the sector was overvalued because the ratio of stock prices to earnings seems to be high. While I think there are almost certainly a lot of overvalued stocks of technology companies today, blunt valuation tools risk missing truly amazing opportunities to compound for long periods of time.
Around fifteen years ago, Amazon's share price was around $30 which represented a ratio of 26 times the earnings per share, before interest, tax, depreciation, and amortisation charges. To many this would seem like an astronomical price to pay for the stock of any company and almost certainly guarantees a paltry investment return in future – if it's even positive at all.
Fast forward to today and Amazon has grown from being an online book seller, to an e-commerce giant, a logistics and fulfilment juggernaut, and a leading cloud computing platform. It also offers music and video streaming among many other services. Amazon's shares now trade at around $3,000 representing a 100-fold increase. In fact, investors 15 years ago could have bought Amazon shares at 10-times the price they were trading at back then, and still made 10-time their money!
Amazon Share Price: Last 15 Years (Log Scale)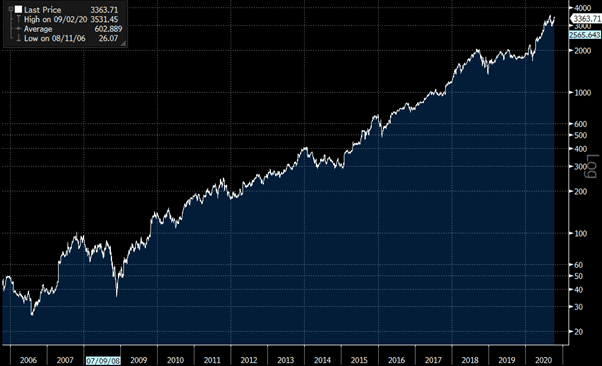 Good things happen to great businesses, and public equity investors that rely on short-cut valuation measures alone will often miss out on the greatest opportunities of their lifetimes. In the Montaka long portfolio we focus on owning the winners in attractive markets, that will likely grow into new businesses and markets, and deliver outstanding compound returns over time. We're looking to invest behind the "next" Amazon, and even the existing Amazon, as it continues to expand its advantages and earnings power.
Montaka owns shares in Amazon.
Chris Demasi is a Portfolio Manager with Montaka Global Investments. To learn more about Montaka, please call +612 7202 0100.