– Amit Nath
For many readers, Salesforce is unlikely to be a household name like Apple, Amazon or Google, which are deeply entwined into our daily lives. Within enterprise businesses, however, there are very few software applications that are more mission-critical than Salesforce. Since it was founded in 1999, Salesforce has been one of the most disruptive innovators in the history of enterprise software. It created the now ubiquitous Software-as-a-Service (SaaS) model, was first to introduce an enterprise API (Application Programming Interface) which revolutionized the industry (a year ahead of Amazon) and created the world's first app store called the AppExchange. 
We believe the probability of Salesforce being a long-term winner in the global enterprise software space is high. Salesforce operates with a privileged, ecosystem business model, built in software – which naturally carries with it particularly favourable economics. Its access to large and growing pools of customer metadata allow Salesforce to develop predictive, artificial-intelligence-based algorithms to further enhance the value-proposition for customers. And there remains a large cross-selling opportunity for Salesforce within its own base of more than 150 thousand customers.
Mission-critical
As the name suggests, Salesforce originally started out as a highly effective software application for salespeople to keep track of their customers and manage their relationships more effectively i.e. Customer Relationship Management (CRM). At their core, the services Salesforce offered helped salespeople find new customers (lead generation) and retain existing customers, which dramatically improved salesperson efficiency and efficacy. SunGard, which morphed into fintech industry giant FIS, became an early customer in 2003, with its CEO noting: "The sales people were buying it on their own; they were swiping their own credit cards and going around their managers to purchase an account." This dynamic underscores how disruptive Salesforce was: salespeople were simply unable to compete in the workplace without access to the product and hence started buying it themselves.
Even today, the value that Salesforce creates for its customers is truly astounding. Customers report that, on average, they see a 25% increase in revenue, 26% decrease in IT costs, 70% increase in employee productivity and 30% increase in customer satisfaction. It is little wonder, therefore, that Salesforce has evolved into a mission-critical, non-negotiable system demanded by CEOs and corporate boards looking to digitally transform their businesses.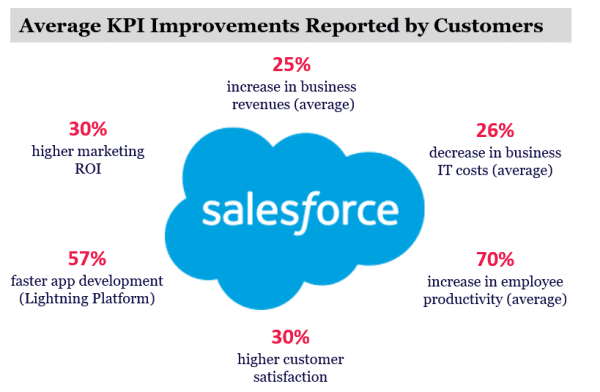 Source: Salesforce
Privileged business model
Beyond its core suite of products, Salesforce was a pioneer in opening access to its platform upon which third-party application businesses could be built (called "Lightning Platform"). This platform has given birth to numerous billion-dollar success stories, including recently listed nCino and Veeva Systems which are based on Salesforce's platform architecture. The AppExchange has grown into the world's leading enterprise cloud application marketplace, home to thousands of ready-to-install apps. This dynamic of developers, partners and service providers creating and leveraging a continually-expanding catalogue of enterprise applications – all built upon the Salesforce platform – represents a powerful network effect for the business. Michael Dell, founder and CEO of Dell Technologies, summed it up succinctly: "By igniting the SaaS industry and then offering its Platform-as-a-Service, Salesforce has spawned an ecosystem of countless new companies…we are in unprecedented economic times, but we are also in a new era of innovation."
Industry-leading
Fast forward to today; Salesforce dominates CRM and has been ranked number one in the world for fourteen consecutive years by the prestigious technology consultancy, Gartner. By leveraging the CRM "entry wedge" Salesforce has successfully expanded into several complementary adjacencies, entrenching itself in the enterprise and penetrating market opportunities beyond its core offering.  Salesforce is now a leading industry player in customer service, marketing, analytics, eCommerce and software integration. This approach to expansion rhymes with that of another of our portfolio holdings, Microsoft, with its Windows and Office suites successfully leading its enormous enterprise customer base to adopt its Azure cloud platform.
This strategy of expanding into adjacencies within an existing customer is commonly referred to as "land-and-expand" and is responsible for approximately 75% of Salesforce's revenue growth. Customers are discovering that, upon integrating multiple Salesforce applications, a more complete picture of their customer can be portrayed by their CRM at any point in time. And this enables more tailored selling and servicing techniques to be deployed.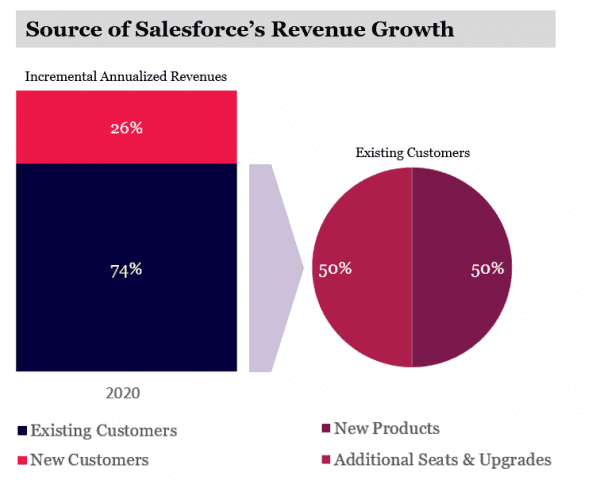 Source: Salesforce
Enormous cross-selling opportunity remains
We believe significant growth opportunities remain within Salesforce's existing customer base. Today, most customers are leveraging only one or two of Salesforce's six products (a.k.a. clouds). And as of 2019, only one of Salesforce's largest (top 25) customers is also a large customer of five clouds – suggesting significant large cross-selling opportunities remain. We are starting to observe this dynamic shift as a consequence of the COVID-19 pandemic. In the company's recent Q2 result, for example, during a period of double-digit percentage decline in US economic growth, large Salesforce deals of at least seven-figures increased by 63 percent versus the same time last year.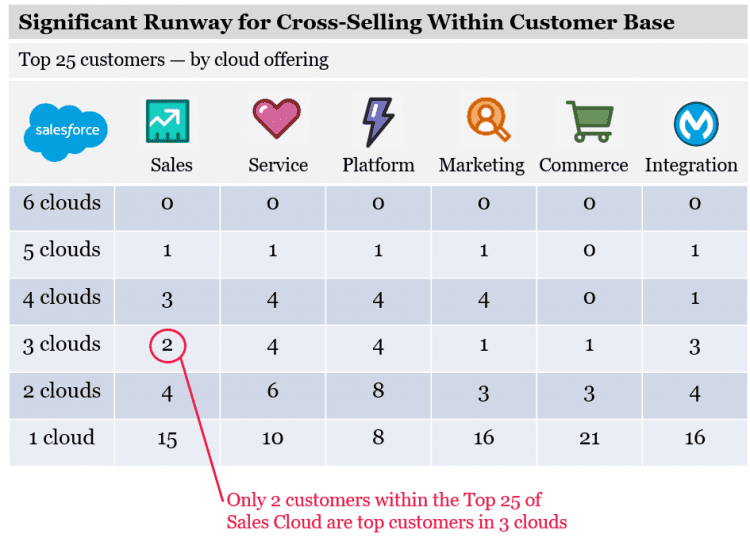 Source: Salesforce
Through this lens, the total addressable market (TAM) opportunity for Salesforce remains enormous. Morgan Stanley estimates the TAM for Salesforce at approximately US$160 billion today – and sees it at more than US$240 billion by 2024. Salesforce has a very long runway ahead of it, holding only around 10% share of this TAM today, with business model and data advantages that we believe are far superior to the competition and growing.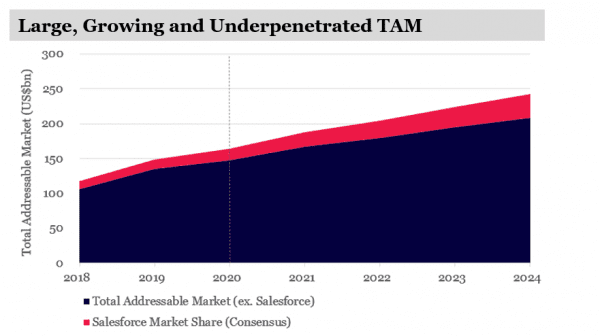 Source: Morgan Stanley, Bloomberg
It is for these reasons that Salesforce finds itself as a core holding in Montaka's portfolio today. We see it as a long-term winning business in a highly-attractive market. We believe it will play a meaningful role in contributing to portfolio compounding for the foreseeable future.
Montaka owns shares in Salesforce. 
Amit Nath is a Senior Research Analyst with Montaka Global Investments. To learn more about Montaka, please call +612 7202 0100.