By Chris Demasi
The first five months of 2022 have been extremely challenging for investors as equity markets have sold off heavily amid macroeconomic and geopolitical uncertainty. US stock prices had the worst start to a year since 1970, declining 13% year to date. They also recorded their longest losing stretch – seven weeks – since the dotcom crash in 2001 until posting a gain last week.
The pressure in today's market environment is immense, and it can be tempting for investors to throw in the towel and sell even the best companies when their measure of success is short term share price movements.
But that would be a big mistake, because they could be giving up the opportunity for huge future gains just to blunt the immediate pain.
To make outstanding returns over time investors should own shares in excellent businesses for the long term, rather than timing trades in and out of stocks in the short run. But staying the course is often easier said than done, especially when stock prices keep falling.
The trick is to act like a business owner.
How a business owner behaves
There are a number of ways to behave like a business owner.
Firstly, business owners focus on fundamental business performance. They favour indicators like sales growth, profit margins, and returns on capital. Economic trends and geopolitical news are secondary inputs to the extent they impact their business. And stock prices are never an input into their evaluation process.
Business owners also take a long-term view. Rather than fixate on changes from month to month or quarter to quarter, true business owners follow fundamental progress on an annual basis and monitor the development of their business over many years.
The corollary to this is that daily, and even monthly, share price quotes are eschewed as a distraction from what really matters.
This discipline has allowed investors to reap substantial gains over time from excellent businesses that have sustainable advantages as their fundamentals improved and their earnings power grew exponentially.
Owning multi-bagger Alphabet like a business delivered huge gains
Acting like a business owner, for example, would have helped investors ride Alphabet, the owner of Google to huge gains. Alphabet has been a multi-bagger for long-term shareholders who have stayed invested in the stock, even as the share price has had bouts of volatility.
Alphabet revenues and earnings-per-share from 2011 to 2021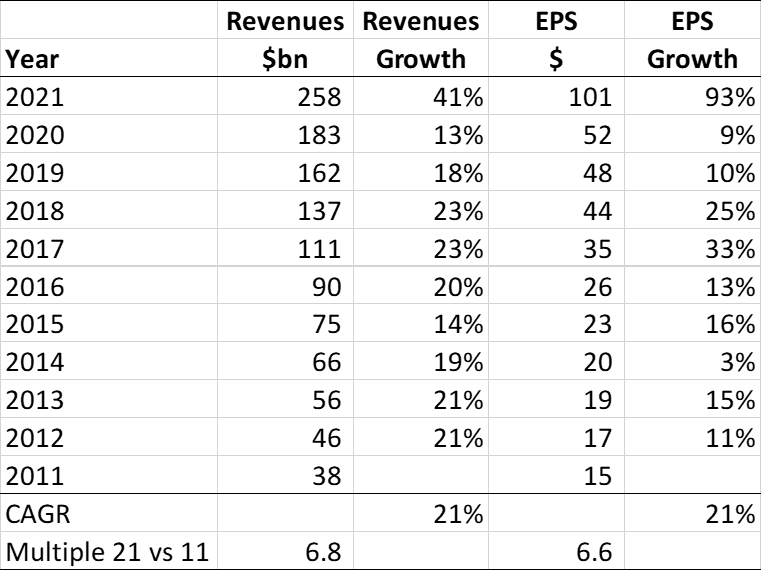 Source: Montaka
Over the past decade Alphabet has grown revenues almost 7-fold to US$258 billion at an average annual compound growth rate of 21%. Earnings per share over this time increased at a similarly strong rate.
Shareholders who monitored this fundamental improvement like a business owner over the past ten years and held on to their shares the whole time would have been richly rewarded. The stock price is up almost eight times – and that includes the 25% reversal since November last year.
But it's entirely possible that many Alphabet shareholders didn't stay invested over the course of the last decade. That's because the journey wasn't anywhere near as pleasant as the delight of arriving at an 8-bagger itself.
Over this time Alphabet's share price has drawn down by 15% or more from the previous peak on nine separate occasions. Twice it has sold off by 30%, including its most recent decline. And in any given year it is not uncommon for the share price to trade wildly in a 50%-plus range.
Investors using the stock price as an indicator of performance over any short run period would have been frequently disappointed – and frightened – by Alphabet. Selling out to avoid the pain would have also meant missing extraordinary gain.
Alphabet share price drawdowns from the prior 2YR peak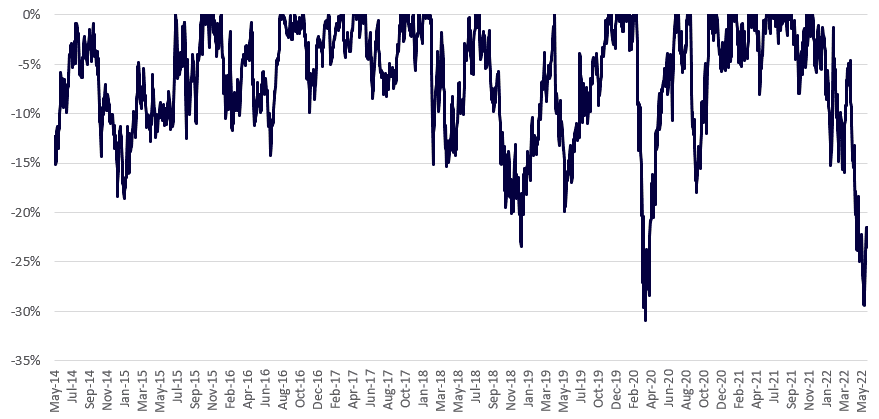 Source: Montaka
Stay focused, stay the course
At times like today when share prices are falling and markets seem panicked it is more important than ever to stay the course in excellent businesses and to pick up additional shares of great companies that have gone on sale.
By coming back to fundamental performance investors can have confidence that the best businesses are continuing to perform well and will deliver rewards in the future.
Montaka's portfolio has remained fully invested with very little change even as the market has sold off so far this year. It's always difficult to see the share price of our holdings but it's uplifting to see our companies continue to report strong fundamental results. By acting like business owner we have confidence to stay the course for truly outstanding returns in the years to come.
Note:
Montaka is invested in Alphabet (Google).
Christopher (Chris) Demasi is the Portfolio Manager at Montaka Global Investments.
To learn more about Montaka, please call +612 7202 0100 or contact us on https://montaka.com/
Read our latest AI whitepaper now by sharing a few details with us: