-Phill Namara
The last few years have seen an explosion in the adoption of online luxury resale, a market estimated to be around $40 billion in size and expected to grow at double digits for the next 5 years. Evolving social acceptance towards used items, increasing awareness of sustainable fashion and collectability all contribute to growing the demand used luxury goods. In this article, we will explore the potential evolution of this nascent industry.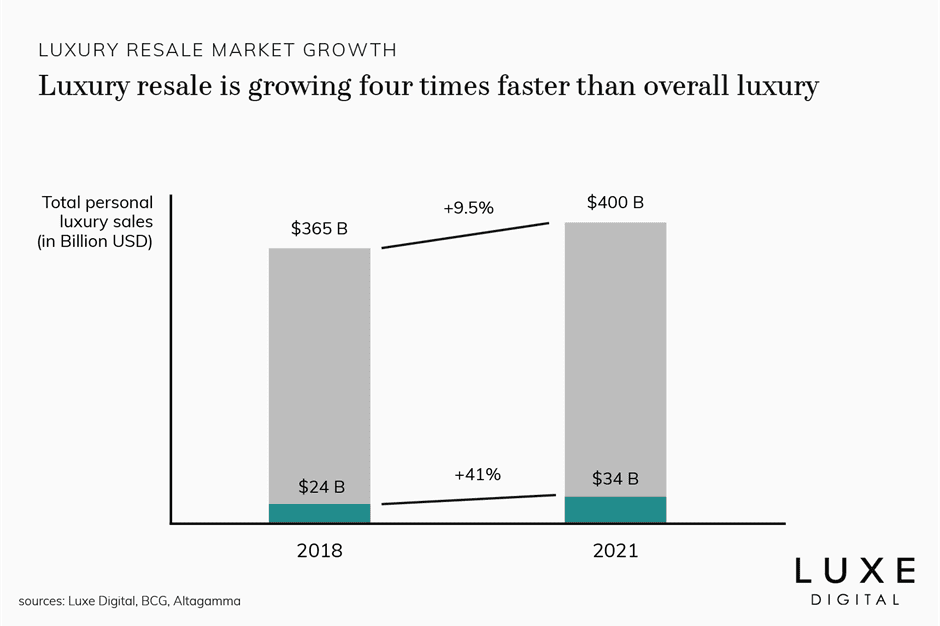 Source: Luxe Digital, BCG, Altagamma
Sustainability
There has historically been a negative stigma associated with the purchase of used clothing most likely for hygiene reasons. However, consumer preferences and attitudes amongst Millennials and Generation Z, the largest market participants, differ from prior generations. Millennials and Generation Z appear to care less about these "old" stigmas and are more concerned with responsible consumption.
A study conducted by BCG-Altagamma found that 59% of luxury customers in both primary and secondary markets say that the issue of sustainability influences their purchasing behaviour, while 17% of customers in the secondhand market purchased preowned items because they consider doing so to be "truly sustainable behaviour".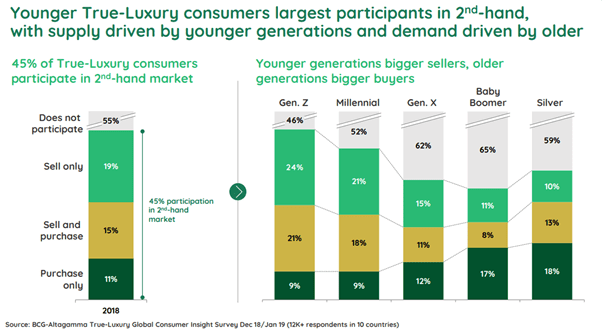 Source: BCG-Altagamma True-Luxury Global Consumer Survey
From the study, shoppers hope to own fewer, though better items, to reduce overconsumption, and to take better care of what is stored within their closets; the presence of a thriving preowned market encourages all three goals. It is easy to visualise the burgeoning volume of barely worn garments or accessories stored in wardrobes globally, representing the total addressable secondhand luxury stock and the hugely positive environmental implications if the recirculation of these goods were to improve or increase relative to the manufacture of brand-new goods.
Collectability
Enduring desirability and durability of high-value luxury goods makes them well-suited for resale, however it is the scarcity of certain seasons or collections that make the items well-suited for investment. This is evident as 57% of Gen Z and 50% of Millennials today consider resale value when purchasing luxury goods according to a CG-Altagamma study. Resale value is a purchase motivator in the primary market as buyers are cognizant of the proportion of initial purchase price that they can recover when they end up reselling their goods, making them more willing to spend more on high value items.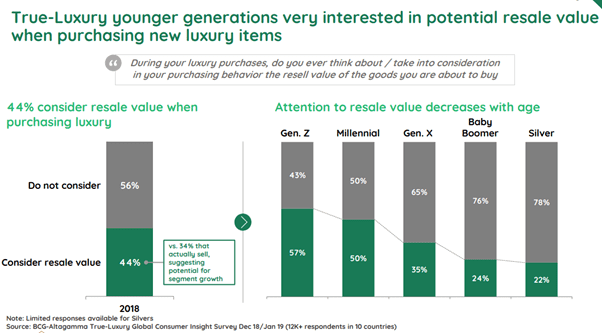 Source: BCG-Altagamma True-Luxury Global Consumer Survey
The RealReal's Annual Resale report (see here: Link) illustrated that high-value luxury items were the most successful investment pieces during COVID. Using data from shopping and consigning behaviour of their 17 million members, the RealReal noted high-value hand bag brands like Louis Vuitton, Chanel, Hermes and Bottega Veneta enjoyed 2.4x the sales growth as lower value brands. Similarly, high value watches such as Rolex experienced 6x the growth and 1.6x average resale value as lower value watches.
Former employees of luxury resale marketplaces have noted that buyers typically purchase items that retain their value either due to scarcity or due to brand power, which results in consignors optimising their inventory to ensure rapid sell-through. This phenomenon becomes self-reinforcing as high-value consignments are rewarded with high velocity sell-through, which results in increased liquidity via network effects, as incremental buyers and sellers are attracted to the marketplace.
As a burgeoning resale market introduces an "investment" aspect to the purchase of luxury goods, the total number of addressable customers for both brands and marketplaces improves, as incremental buyers and sellers are attracted for reasons beyond just fashion and style. Hence, both luxury brands and online marketplaces stand to benefit from a rapidly growing secondary market.
Evolution of Resale
"As stores closed and orders cancelled, the rippling effect of the pandemic caused a shift in the evolution of the fashion industry. Luxury brands are rethinking their distribution and the role resale can play in sustainably addressing their excess inventory, embracing it as a way to give new life to pieces from past seasons" Julie Wainright, The RealReal CEO.
Whilst the secondary market offers both a steppingstone into the luxury world for the price sensitive customer with luxurious aspirations and increases brand awareness, brands have many reasons to be wary of the rapid growth of the market. Luxury brands are built on the perception of exclusivity or scarcity and create or invoke symbolic value amongst their customer-base. Increasing the supply of that brand's goods in circulation would arguably reduce the value of the existing goods in circulation and could contribute towards brand dilution.
Similarly, selling used items in the same store-front or website as brand-new handbags could dissuade potential customers from purchasing the new products, as the price difference between new and used is often stark. For this reason, the rapid rise of third-party marketplaces such as The RealReal or Vestiaire Collective is a positive for the brands, as the purchasing experience of primary shoppers remains separate from the secondary shopper.
However, in allowing the proliferation of a secondary market, controlled by third party intermediary marketplaces, brands lose their direct access to the customer which is critical to ensuring an ongoing relationship and reduces the probability of ongoing purchases.
Ever-changing consumer preferences coupled with the global pandemic will likely see both the luxury brands and online marketplaces continue to evolve their relationship and perhaps eventually the two industries clash, as either market begins to draw too much incremental share from the other. We at Montaka continue to monitor these secular themes, leveraging our deep sector and market expertise to identify businesses that are long-term winners to grow our capital alongside yours.
Source:
The Consumers Behind Fashion's Growing Secondhand Market: Link
2019 True-Luxury Global Consumer Insight 6th Edition: Link
Luxury Resale Transformation: Link
Phill Namara is a Research Analyst with Montaka Global Investments. To learn more about Montaka, please call +612 7202 0100.