By Chris Demasi
We have been bullish on long-term structural transformation driving massive growth in several industries, including digital advertising and cloud computing.
But the IMF is now expecting global growth to almost halve to 3.2% this year, then slide to 2.7% next year. If you exclude the global financial crisis and pandemic, that's the lowest growth since 2001.
Real Global GDP Growth 2000-2023E (percent per annum)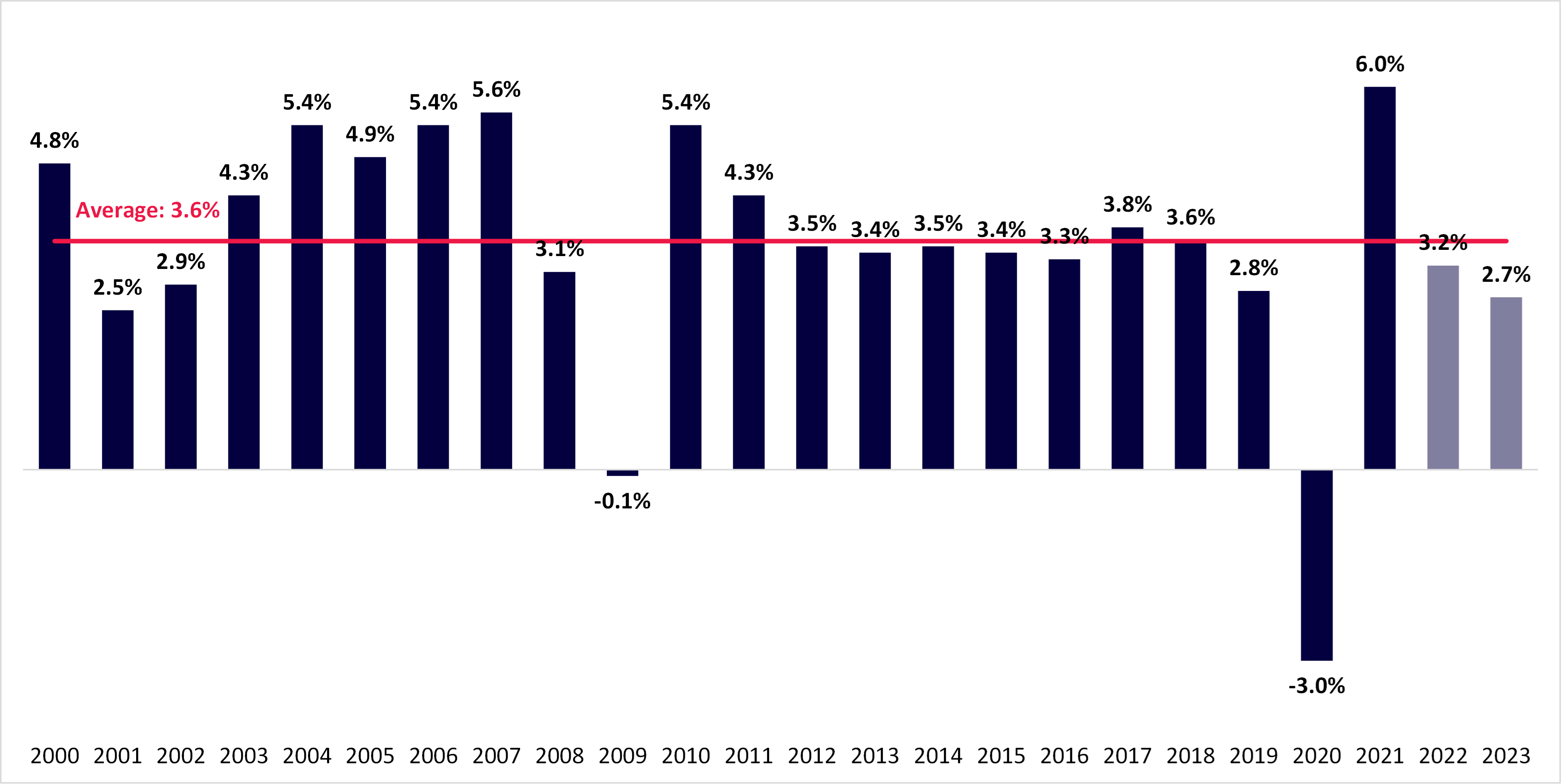 Source: International Monetary Fund
This time, the weakened macroeconomic environment isn't just depressing traditionally cyclical sectors, like manufacturing and home-building. It has also created near-term headwinds for growth industries.
But we don't think this is time to give up on these promising industries.
While they are reporting decelerating growth this year and into next year, and some investors may be questioning their outlook, these industries have not entered a 'new normal' of permanent slower growth.
The slowdown is cyclical, not structural.
The transformational change in digital advertising and cloud computing remains robust and will drive huge long-term growth that will deliver outsize returns for investors.
1. Digital advertising: still on track for $US1 trillion
The digital advertising market has come of age over the past decade. According to Magnaglobal, the global online advertising industry ballooned six-fold to US$439 billion in 2021.
But the digital ads market has stalled this year. Advertisers around the world have pulled back as they face an uncertain economic environment.
This abrupt pause is reflected in the financial results of Alphabet and Meta Platforms, the world's two largest online ad platforms, who together account for around half of the market.
Alphabet, the owner of Google and YouTube, reported advertising revenue growth of 3% in the latest quarter, a dramatic slowdown from 44% in 2021, and well down on the more than 20% average annual growth rate over the last decade.
In its most recent results, Meta Platforms, the owner of Facebook and Instagram, recorded a 3% decline in advertising sales, sharply down from 37% growth in 2021.
Global Online Advertising Industry Revenues (US$ Billion)

Source: Magnaglobal; Montaka.
Yet if we look beyond the current macro challenges the long-run prospects for digital advertising remain bright.
Digital ads account for almost two-thirds of ad budgets and advertisers continue to shift spending away from traditional channels to higher performing online ads.
The digital ad market is also capturing more 'below-the-line' marketing spend from trade shows, promotions, and sponsorships.
Magnaglobal is forecasting the global online advertising market will reach $US734 billion by 2026, which represents an 11% average annual growth rate. And we expect the market to reach $1 trillion by the end of the decade.
We remain extremely long-term bullish on digital advertising.
2. Cloud Computing: growth set to reaccelerate
From a nascent industry less than ten years ago, we have watched public cloud computing boom into a market worth almost $200 billion as enterprises digitize their operations.
But Amazon's AWS and Microsoft's Azure, the world's largest cloud platforms, recently reported the slowest rate of expansion in their respective histories.
AWS revenue growth decelerated to 27% in the September quarter after growing 37% in 2021; and Azure's revenue growth slowed to 35% compared to rates near 50% over the last two years.
Both Amazon and Microsoft said that cloud customers are prioritising cost savings in the near-term as the macroeconomic environment has become more difficult.
Still, the trend towards cloud computing remains intact and customers continue to make long-term commitments to spend more of their IT budgets in the cloud.
Global Public Cloud Services Market Forecasts (US$ Billion)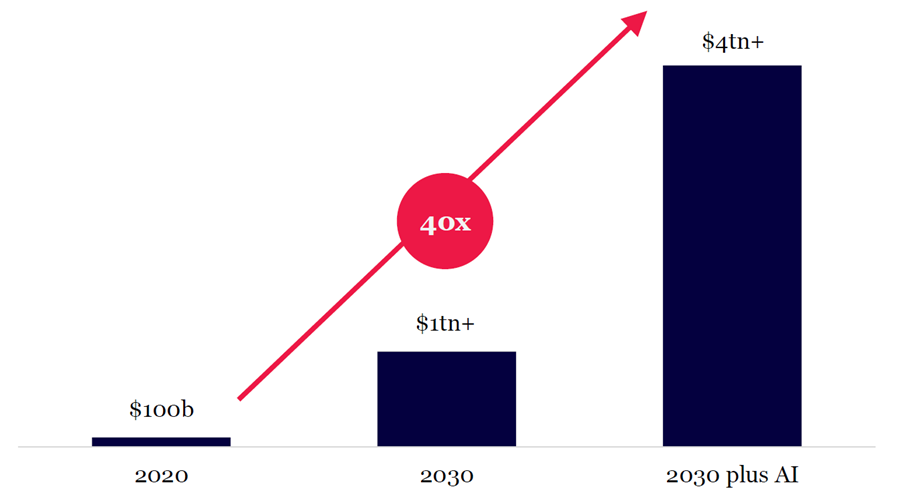 Source: Bernstein; UBS; Montaka (2030 forecast based on analyst estimates; 2030 plus AI based on Montaka estimates)
For example, in the most recent quarter AWS' multi-year backlog increased by 57% to $104 billion. Analysts forecast the cloud market to expand to more than a trillion dollars by 2030.
On top of this artificial intelligence (AI) is super-charging demand for cloud computing services as 500 million new applications are created by 2023, data generation increases 10-fold in less than 10 years, and compute intensity doubles every three months.
We project this extra demand could multiply the value of the public cloud market to several trillion dollars by the end of the decade and drive a reacceleration of industry growth rates.
Despite the recent blip, the long-term outlook for cloud is strong.
Not falling for the extrapolation trap
Today's tepid economic environment is depressing growth rates in many industries.
But we are not extrapolating current growth rates too far into the future.
To do so would risk severely underestimating the exponential expansion possible in these markets over the next decade, and the high potential returns achievable by shareholders in businesses that can capitalise on them.
Note: Montaka is invested in Microsoft and Amazon
Chris Demasi is a Portfolio Manager with Montaka Global Investments.
To learn more about Montaka, please call +612 7202 0100 or leave us a line on montaka.com/contact-us
Read our latest whitepaper on why AI is the most important theme today: