-Amit Nath
Artificial Intelligence (AI) is expected to contribute an astonishing $US15.7 trillion toward global GDP by 2030 (PwC). AI would become the third-biggest economy in the world: larger than the current combined output of Japan, Germany, UK, Italy and Australia.
Many investors are likely sceptical of such predictions of explosive growth from AI given the last few years of hype around crypto, meme stocks, NFTs and SPACs.
But AI has strong fundamentals. The foundational forces of commerce and industry will govern the future economics of AI. Deep distribution across a loyal customer base will decide the long-term AI winners.
And that is why there is no company better positioned to benefit from the AI revolution than Microsoft.
We look at four key reasons why Microsoft is best placed to monetize AI and is a standout stock for investors looking to gain exposure here.
1. Microsoft is king of distribution
For the commercialization of cutting-edge AI it is critical to access the highest-quality customer distribution networks as quickly as possible.
History is littered with great innovations unable to access scale distribution and ultimately failed. The Segway was a mind-blowing innovation; a self-balancing electric scooter that promised to revolutionize the way people commuted. Segway, however, failed to find a distribution channel that would make it commercially viable. It eventually failed and was sold to a Chinese firm in 2015.
Failed Innovations Revived by Scale Distribution to Win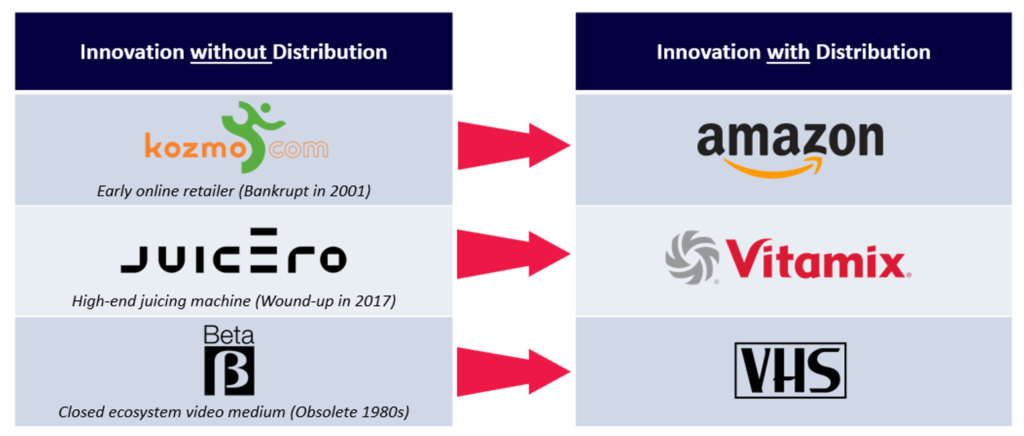 Source: Montaka
No company on earth has better enterprise software distribution than Microsoft; no company is more ubiquitous, deeply penetrated or mission-critical to companies across the world.
Its Office productivity tools are used by 80% of the Fortune 500 with over 400 million monthly subscribers paying for the service.
The Microsoft Windows' operating systems has more than 1.6 billion Monthly Active Users (MAUs) across the world, which is 20% of the entire population of earth!
Almost 70% of organizations worldwide use Microsoft's cloud service (Azure) and more than 95% of the Fortune 100 trust Azure for their most mission critical systems.
Given this deeply penetrated and powerful distribution network, Microsoft can pick the crème of the AI crop as it emerges and provide a select few partners with multibillion dollar end markets and collect a toll along the way.
Microsoft's Industry Leading Enterprise Software Distribution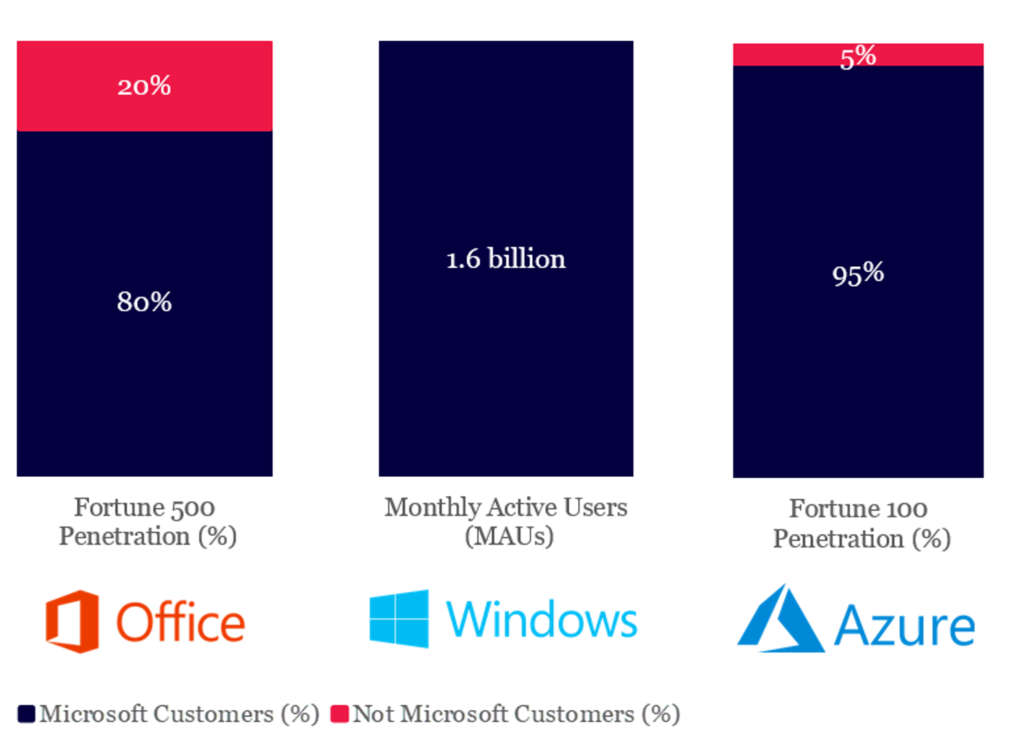 Source: Microsoft, investing.com, earthweb.com, Montaka
2. Microsoft will create enormous value for AI partners and themselves
What does this mean for the AI applications that are chosen to partner with Microsoft? An enormous amount of value creation:
Reach: By partnering with Microsoft, emerging AI technologies with the greatest product-market-fit and potential can vastly extend reach beyond existing users and tap into immense new markets (such as OpenAI, the creator of viral chatbot ChatGPT).
Customer Acquisition Costs: By leveraging Microsoft's customer base, prospective AI can acquire customers more quickly, cheaply and efficiently than by building their own sales and marketing infrastructure from scratch. Microsoft recently became a major investor in OpenAI and is said to be on a path to owning 49% of the company over time.
Brand awareness: By partnering with Microsoft and going to market via its distribution channel, Microsoft's brand equity washes across OpenAI (and the other chosen few), enhancing their reputations and perceived quality with the most valuable set of customers in the world (the Fortune 500 and beyond).
Ultimately, Microsoft's distribution enables a business to sell more products via its network, tap into new revenue pools, and gain mass adoption far more quickly than doing so unilaterally. All of which seeks to create an inflection point for revenue growth and profitability.
3. Microsoft is embedding AI into its software offerings – for a price
Leveraging its mission-critical software suite, Microsoft has taken the lead in embedding AI into its applications.
After investing $10 billion into OpenAI, Microsoft begun blending ChatGPT into its software.
Customers are seeing incredible increases in productivity across their workforces and the potential for Microsoft to charge for this massive enhancement is monumental.
Microsoft Teams, which became an overnight sensation during the pandemic and sharply accelerated its userbase by 14x. It currently has 280 million subscribers and serves as another demonstration of Microsoft's incredible distribution capabilities.
Pandemic Inflected Teams Users via Microsoft's Distribution Network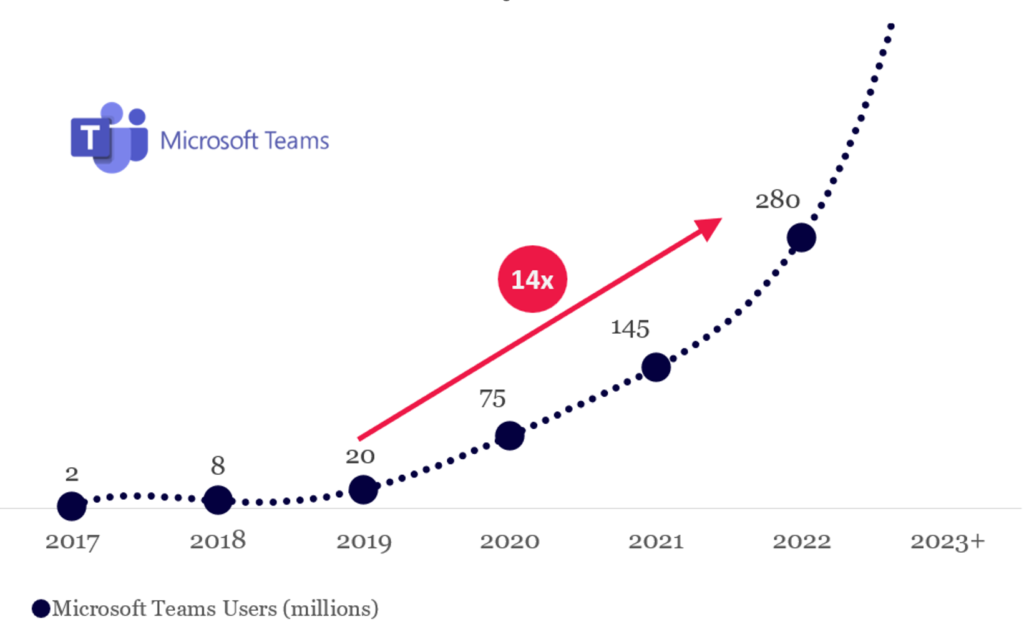 Source: Microsoft, Montaka
A standalone version of Teams costs $4 per month. But to get the AI-enabled ChatGPT version (Teams Premium), a user will have to pay an additional $7 per month (assuming they are an Office customer as well).
This effectively triples the price of Teams.
Given the enormous customer appetite for ChatGPT, one can imagine the value creation potential from this product alone.
Another example is GitHub Co-pilot. This is a software developer tool which embeds OpenAI's coding AI (Codex) into Microsoft's existing GitHub application. The standard version of GitHub costs about $4 per month whereas GitHub Co-pilot is nearly 6x more expensive at $23 per month.  That's an incredible mark-up, but makes a developer up to 55% more productive, so probably worth the price!
Microsoft recently announced the integration of OpenAI's GPT-4 engine across the entire Office suite, including Word, Excel, PowerPoint, and Outlook. Similar to GitHub, each of the AI infused Office applications will take on the "co-pilot" extension and make knowledge workers far more productive. Co-pilot's capabilities were also exhibited by Microsoft in a mind-blowing video demonstration here.  Pricing is yet to be announced, but with over 400 million paying subscribers of Office, the impact to profitability could be incredible.
Embedding AI into Existing Software is Highly Lucrative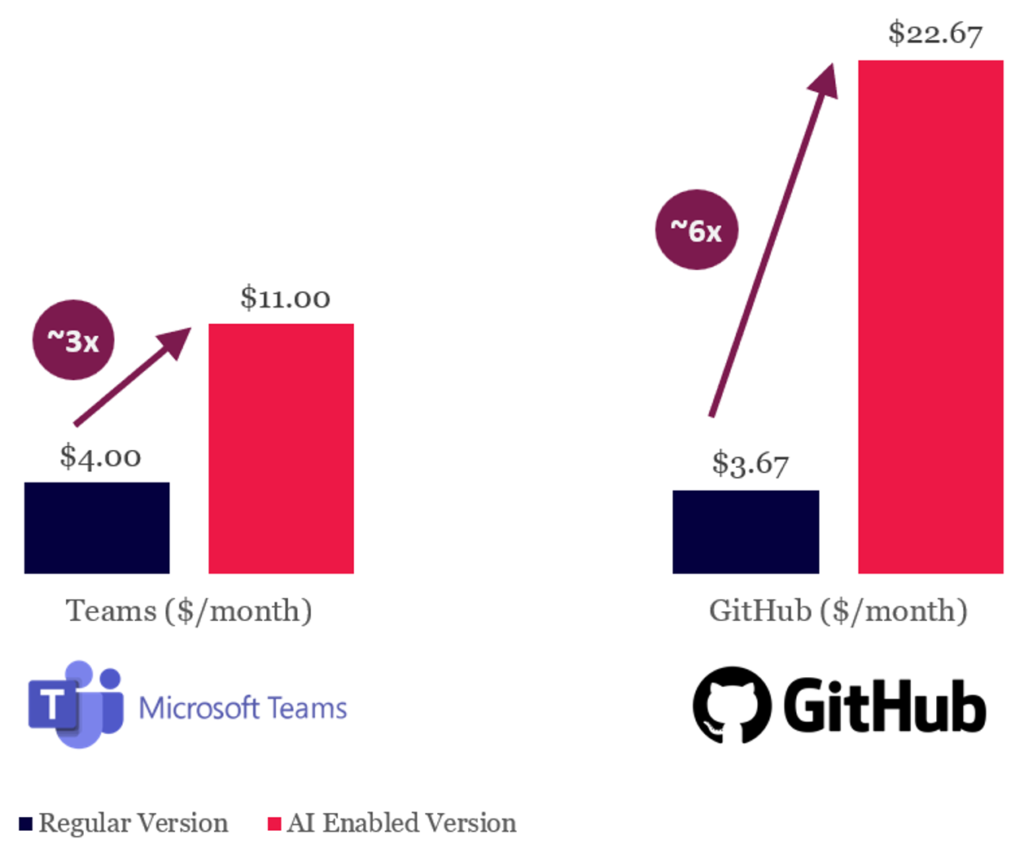 Source: Microsoft, Montaka
4. As the 'railroad' for the new industrial revolution, Microsoft will benefit from a surge in AI-driven demand for compute
The railroad was an instrumental distribution system for the US economy during the first and second industrial revolutions. It moved raw materials, stimulated heavy industries (steel, manufacturing, etc) and helped to settle and industrialize the country.
Not only did the railroads themselves grow into flourishing businesses, but they enabled corporations to expand across the nation. Today US railroads operate as an oligopoly with a handful of major railroads spanning the entire country (Warren Buffet owns one of them).
The next industrial revolution will be driven by technology with AI as the central accelerant of the next ultra-productive phase of humanity.
We expect the global 'hyperscalers' – Amazon, Microsoft and Alphabet (Google) –  to own the 'railroads' of this new industrial revolution via their dominant cloud platforms.
As with the railways, the hyperscalers operate as an oligopoly, provide critical infrastructure (compute, storage, applications), but instead of industrializing just the United States, they have substantial global footprints to industrialize the world.
The 'barriers to entry' in cloud are very high and rapidly growing (like the railroads), which mitigates the prospect of new competitors materializing and fragmenting the industry.
Vitally, AI will drive much greater demand for compute, storage and applications than many are expecting today. In our whitepaper, 'The Amazing Hyperscalers: Why epoch-defining AI is today's most important investment theme', we detailed the exponential increase in compute intensity that will be generated as AI evolves into the mainstream and showed why the hyperscalers will benefit and enjoy outsized share of industry economics.
Microsoft stands to be a major beneficiary from the proliferation of AI. Firstly, as a provider of mission critical applications that enhance worker productivity. Secondly, as the owner of compute and storage infrastructure that these applications will run on. The compute intensity of AI is currently doubling every 3-6 months, hence owning what is increasingly becoming a constrained resource (cloud) is incredibly valuable.
Microsoft operates the railroad for the 4th industrial revolution

Source: Fortune, Montaka
Microsoft is perfectly positioned for AI (win, lose or draw)
As the pre-eminent enterprise software platform, providing mission critical solutions to the world's most valuable companies, Microsoft is uniquely positioned to monetize AI.
Additionally, as the industry's gold standard software distributer, Microsoft will facilitate the emergence of the next generation of leading AI applications and capture significant economics across the evolving value chain.
As a foundation member and leader in the hyperscaler oligopoly, Microsoft has laid the 'railway track' for distributed compute infrastructure across the world and will benefit as surging demand for AI enabled software ignites compute intensity.
Importantly, the stock remains materially undervalued given these tailwinds.
Microsoft has been a long-term holding for Montaka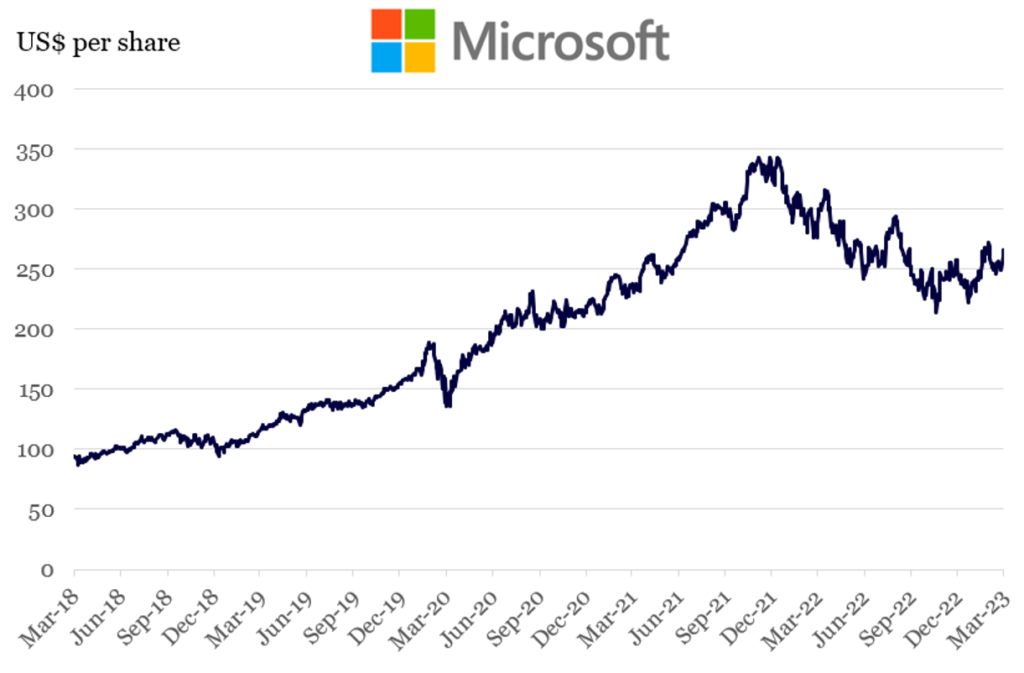 Source: Bloomberg, Montaka
Amit Nath is the Director of Research at Montaka Global Investments. To learn more about Montaka, please call +612 7202 0100.
Tech is dead? Think again. Montaka's new white paper argues that far from dying, tech is entering a remarkable new era of growth with huge opportunities for investors.
To request a copy of the full whitepaper & know the top 5 stocks poised to lead the tech recovery, please share your details with us: