– Chris Demasi
In the 1990s Microsoft capitalized on the explosion of personal computing worldwide with Windows and Office. Today Microsoft is taking advantage of another massive change in the computing paradigm. Enterprises around the globe are rapidly shifting to the cloud, accelerated by the COVID-19 pandemic, and Microsoft is leading the transformation with Office365 and Azure.
Building Office
Microsoft first released Office in 1990, bundling a word processor called Word, the Excel spreadsheet editor, and PowerPoint presentation program, and soon monopolized the global market for productivity applications.
Office programs worked well together, and with the Windows operating system installed on nearly every PC shipped, but more importantly the market standardized around Office driving strong network effects.
Businesses ran Office and workers trained on Office because it was widely used by other businesses and workers, facilitating collaboration, file sharing and transferable skillsets. Customers were drawn to Office, they embedded the programs into their work processes, and became extremely sticky. There are now more than 1.2 billion users of Office worldwide.
Big Office in the Cloud
Traditionally, Office was installed directly on PCs and corporate servers, but as enterprise computing shifted to the cloud Office365 was developed as a Software-as-a-Service version of Office, accessed online, and run on Microsoft's servers.
Office365 has grown rapidly by leveraging the massive installed base of Office customers. There are almost 250 million Office365 business users and they spend more to have Microsoft run Office programs for them. Annual revenues from these customers have more than tripled over the last four years to $24 billion and are highly predictable, with customers paying monthly subscription fees.
Commercial Office365 Revenues ($bn)
Source: company filings, Montaka
The scale of success notwithstanding, Office365 has an extraordinary long runway for growth ahead. Still only one in five Office users have an Office365 subscription, and there are more than 400 million registered users of Microsoft's sign-in directory that could be future Office365 users.
Office365's total addressable market of users has also expanded, beyond just knowledge workers that sit behind office desks, to over two billion first-line workers as new features are added to the suite.
The Office suite now includes applications like OneNote, Outlook, Planner and the Teams collaboration and workflow platform, as well as advanced services. Teams particularly has gained wide appeal, and adoption accelerated during the COVID-19 pandemic, with the number of daily users almost doubling to 75 million in a single month.
Commercial Office365 Users (Seats, m)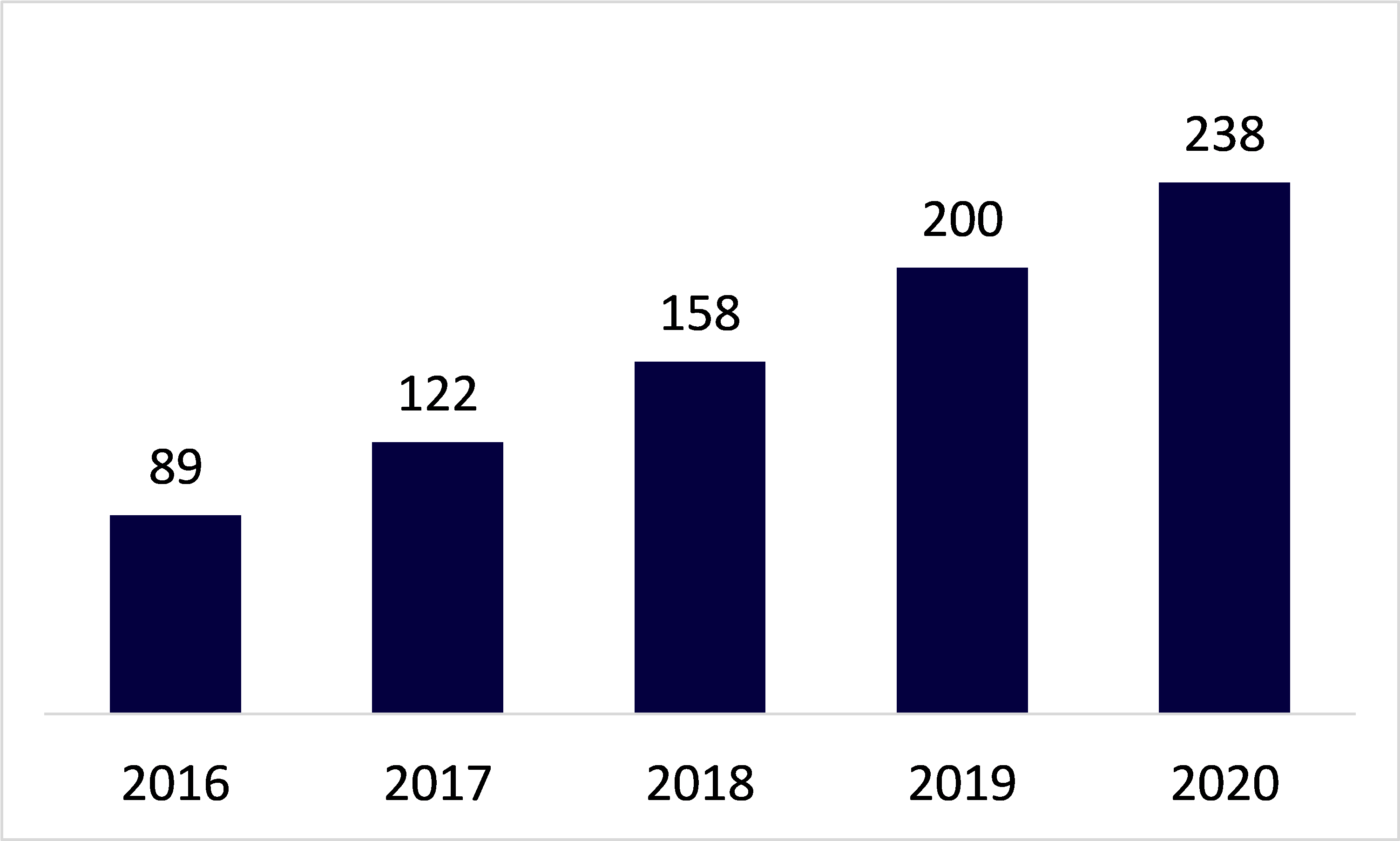 Source: company filings, Montaka
Even as Office365 has become mission-critical software for businesses, and demand has increased with increasing services, the price has remained remarkably affordable leaving Microsoft with room to improve monetization.
On average commercial customers pay just $100 per year per user for access to full suite of essential Office365applications, which has been steadily increasing but is still a small percentage of the cost of other business software subscriptions. Top Office365 customers who receive all the additional capabilities pay around $700 per year per user, which is also extraordinary value.
Windows to the Cloud
By the time Office was first announced to the market by Microsoft, Windows had already established a monopoly over PC operating system software. Microsoft then leveraged that advantage with business customers to dominate the market for operating systems and platform software used by corporate IT departments and developers.
Microsoft's platform software offering was built around Windows Server, the commercial version of the PC operating system, the SQL Server database software, and various other tools. Collectively these programs allowed developers to build, run, manage, and extend custom enterprise applications.
Like Office, Microsoft's platform software was traditionally installed on-premise, and evolved to become the Azure cloud computing platform.
Azure: The World's Computer
Azure is one of just a few mega-cloud providers in the Western world, with Amazon widely considered its only peer and Azure growing the faster of the two.
Amazon dominates the Infrastructure-as-a-Service (IaaS) market, where customers rent servers, storage, and networking rather than build their own datacentre, which is highly commoditized and requires enormous scale to compete effectively.
Whereas IaaS is a small part of Azure's business, PaaS is the vast majority. Azure is the clear leader in the market for Platform-as-a-Service (PaaS), which involves renting platform software and tools, and everything else necessary to replace an on-premise application.
Azure provides its PaaS customers access to hundreds of services and includes advanced technologies like Artificial Intelligence and Machine Learning that can be incorporated into applications by developers. Azure's unique capabilities are tightly integrated, sometimes with third-party services, creating performance that is difficult to replicate and a high degree of customer lock-in.
PaaS Market Share 2019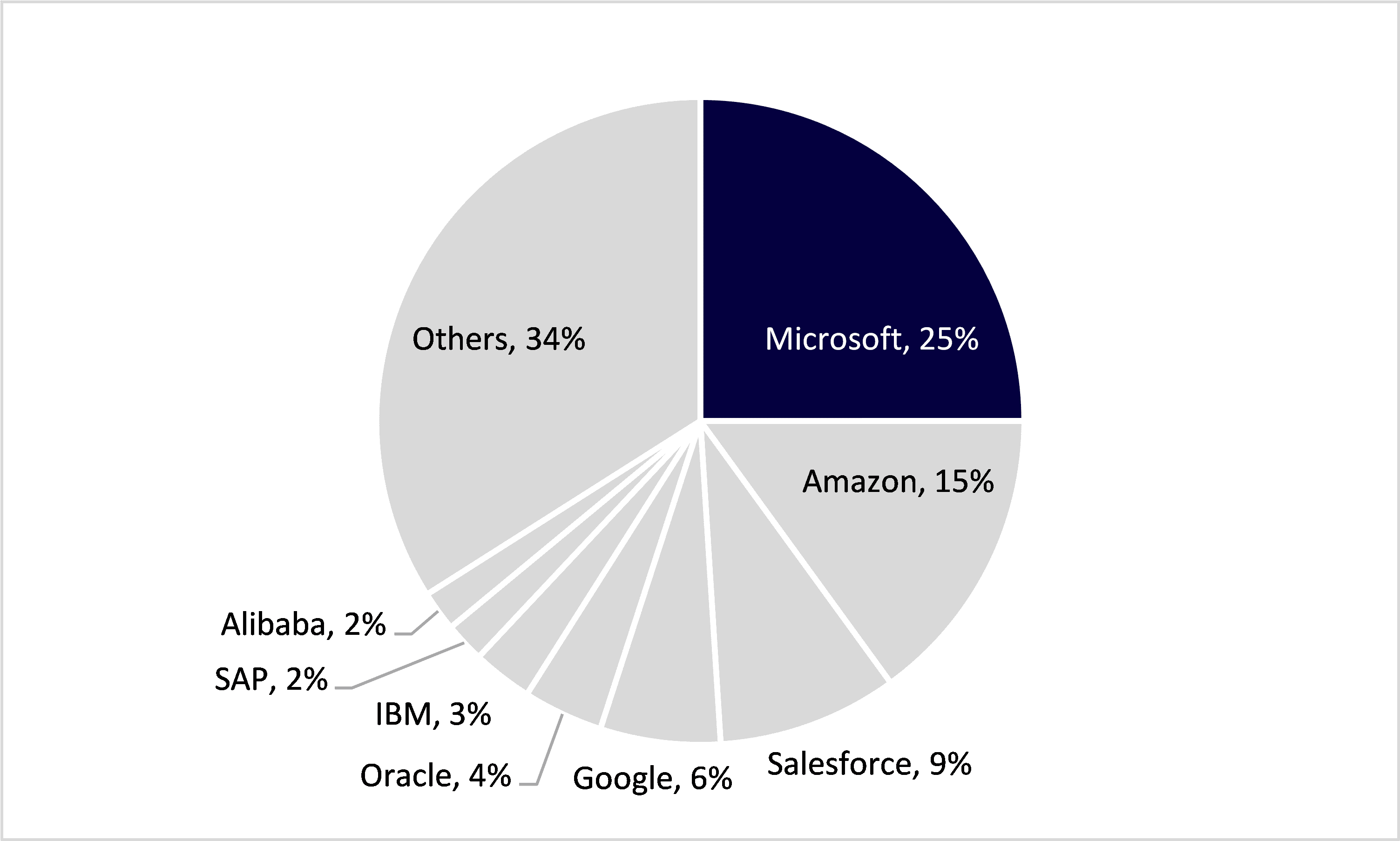 Source: Bernstein
Microsoft's massive existing installed base of Microsoft Server customers is also a huge boost to Azure's growth prospects, with Microsoft commanding a near-monopoly of the server operating system market. For existing customers Azure provides familiarity and a common technology architecture across the enterprise, including more effectively integration with legacy on-premise deployments.
Azure Revenues ($bn)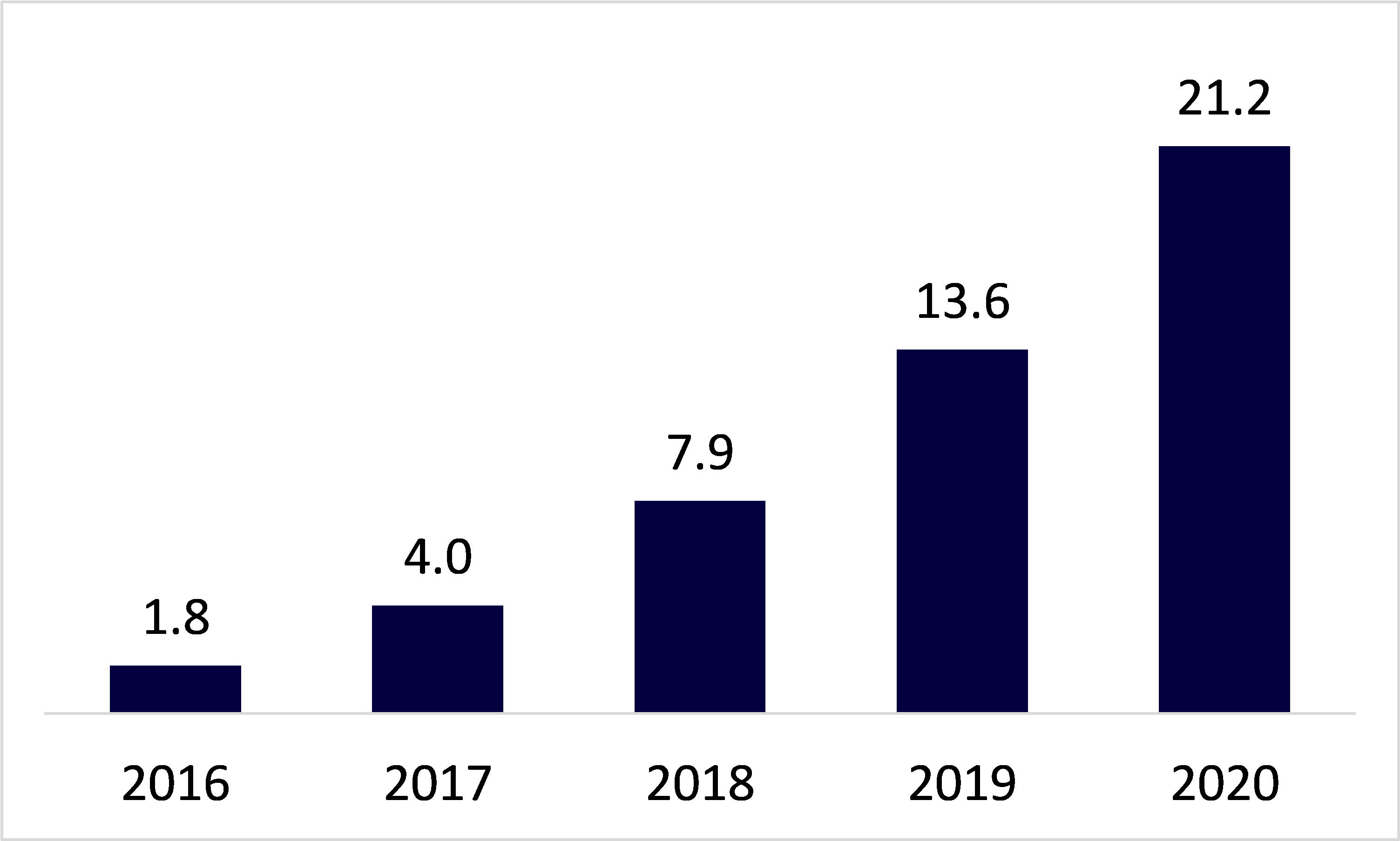 Source: company filings, Montaka
Azure has led strong growth in cloud computing, with annual revenues increasing five-fold over the last four years to $21 billion and growing over 50% per annum. Yet the IaaS and PaaS markets are still relatively nascent, and together have penetrated just 13% of the wider market for IT infrastructure, including platform software, hardware, and services.
Extraordinary growth rates should persist as workloads are migrated, and Azure leverages its on-premise incumbency and cloud advantages to become "the world's computer" in the words of Microsoft CEO Satya Nadella.
Platform Software and IT Infrastructure Market ($ bn)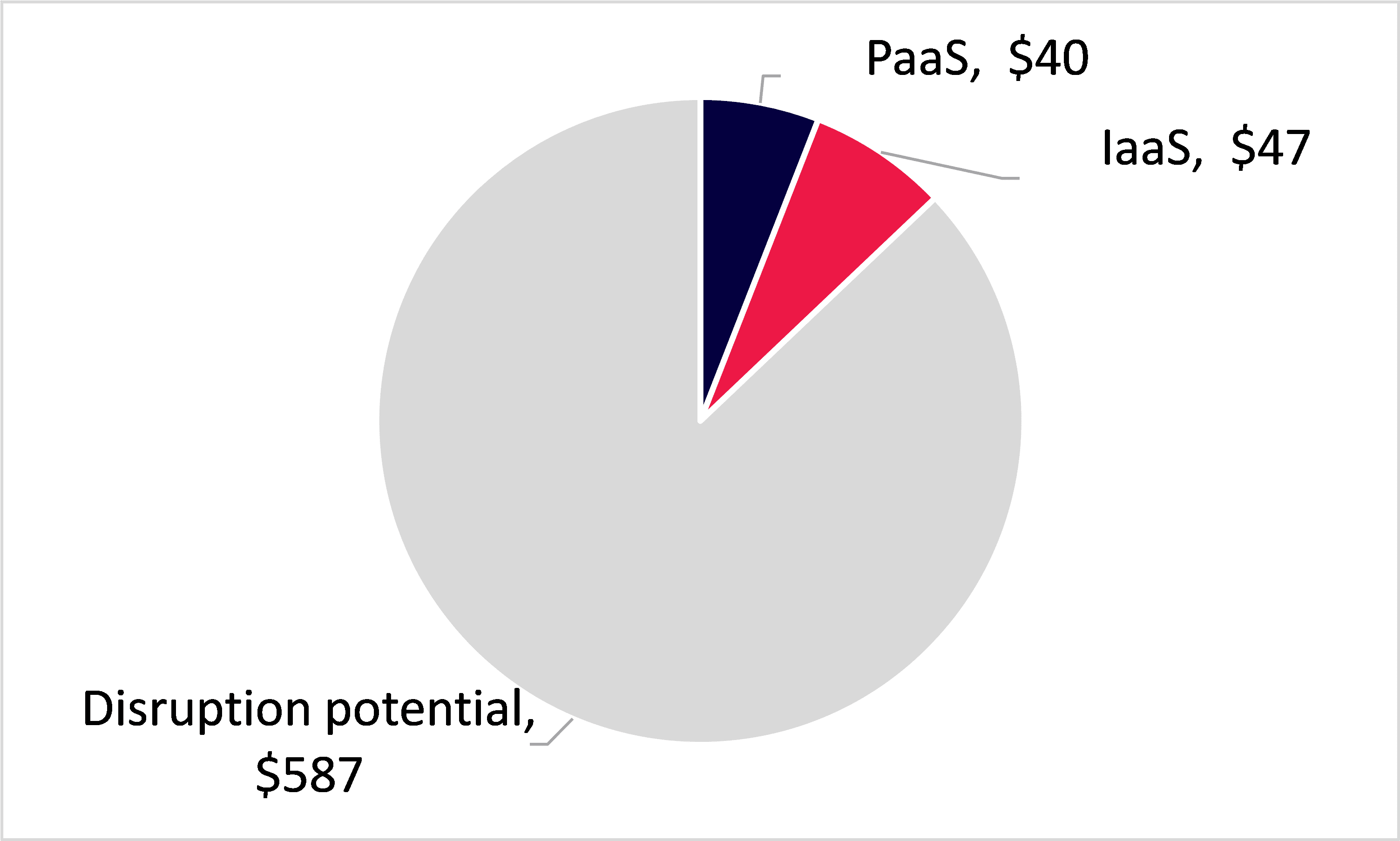 Source: Bernstein, Montaka
Note: Disruption potential includes infrastructure software, data centre services, IT hardware, and support services.
Montaka owns shares in Microsoft.
Chris Demasi is a Portfolio Manager with Montaka Global Investments. To learn more about Montaka, please call +612 7202 0100.