– Lachlan Mackay
Taylor Swift's Eras tour is on track to set the record for the highest-grossing tour of all time, generating an expected $5 billion in consumer spending in the US alone. Beyoncé's recent tour was called out for adding to Sweden's surprisingly high inflation data.
Music has always been fundamental to our culture, and our desire to spend for musical experiences shows that this connection extends far beyond our streaming subscription.
Spotify (NYSE: SPOT) is synonymous with the modern music industry. It sits as the most important access point for audio creators of all types to reach the world, connecting 550 million fans to their favourite artists, and helping them discover new ones, for an average of under €5 per month.
Whilst Spotify's value to the industry is well understood and has only grown stronger, the company's ability to convert that value into profits has been regularly questioned by public investors.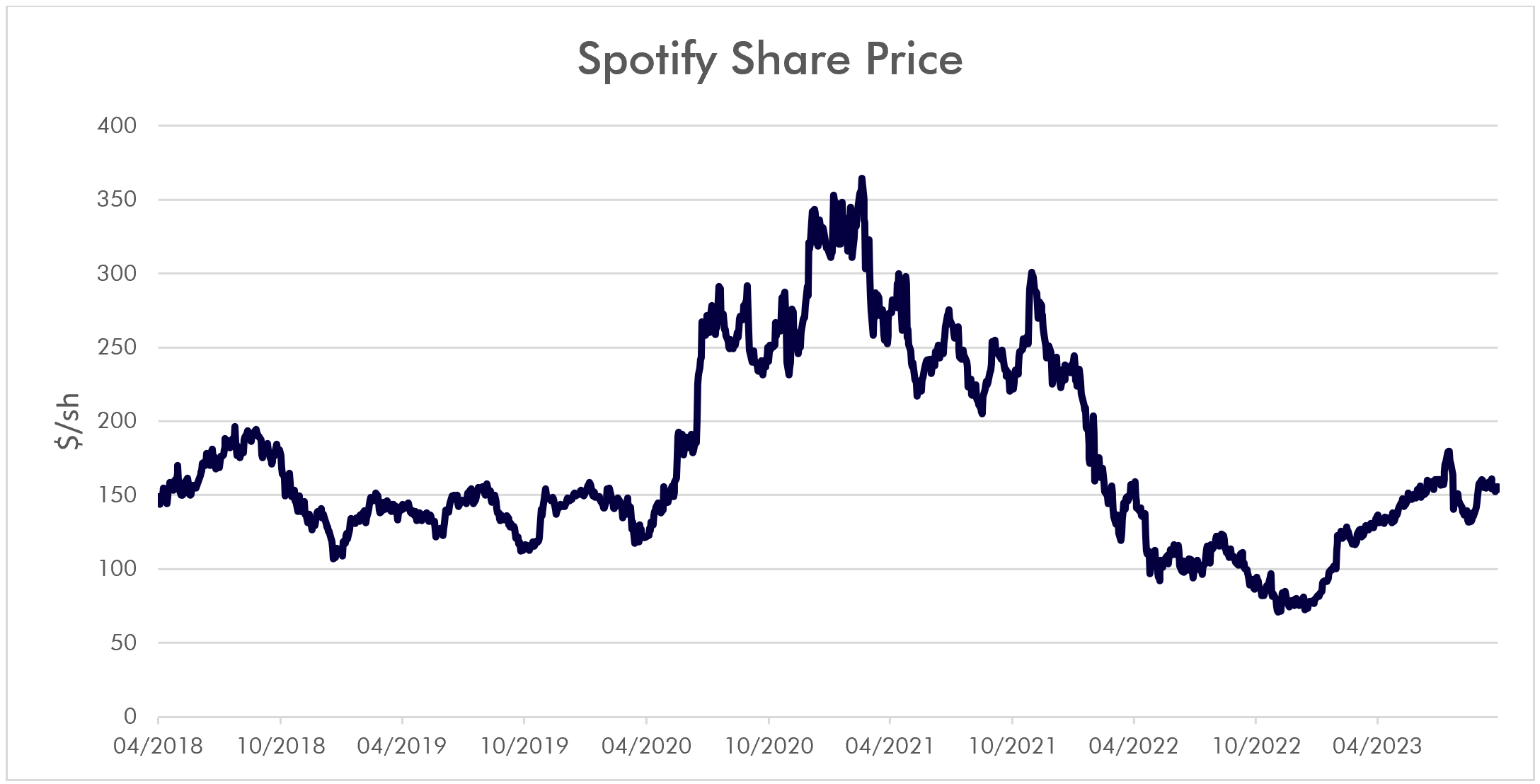 Source: Bloomberg
This inherent misunderstanding is reflected in the rollercoaster ride the stock has been on. After peaking in February 2021, it fell sharply in 2022, and has since recovered to about €150 per share, equal to its 2018 public debut price.
The stock is now in the midst of a resurrection, having already doubled in 2023, but we think that return to glory will continue for four major reasons:
1. Spotify's market-leading platform is underpinned by a flywheel of data-driven innovation
Spotify compete directly with Apple Music, YouTube Music and Amazon Prime, owned by three of the most well-capitalised companies in the world. These platforms offer the same music content as Spotify.
So why does Spotify have more users, double the per-user engagement and half the level of churn?
Simply, Spotify used their early lead and harnessed the power of data as the platform scaled. User data generates a constant feedback loop for the algorithms and curators that generate playlists, for artists releasing new content, for advertisers looking to target an audience, and for engineers testing new features. New listeners start with the best user experience and discovery tools, and the more time they spend on Spotify, the better their personalised recommendations get.
A personal account full of playlists and curated content unique to you is very hard to churn off. Churn in Spotify cohorts longer than six months (which adjusts for trial periods) is below 1% in their major markets.
Such strong engagement drives higher retention, user growth and, therefore, revenues – a self-reinforcing flywheel effect.
Likewise, it gives Spotify a platform to experiment with new user experiences, reinforced with real-time data on customer preferences. Spotify's data-first approach has led them to double down on podcasts by acquiring exclusive premium content and release much-loved music features such as weekly personalised playlists, artist tour dates with ticketing links, and, recently, a radio-like personalised AI DJ.
2. Spotify has a long runway of untapped pricing power
A focus on user growth and product leadership, coupled with challenging negotiations with music labels, has meant Spotify's Premium subscription price has for years remained relatively unchanged in developed markets. Spotify recently raised its US Premium subscription price for the first time since launching in 2011, by $1 to $10.99 per month.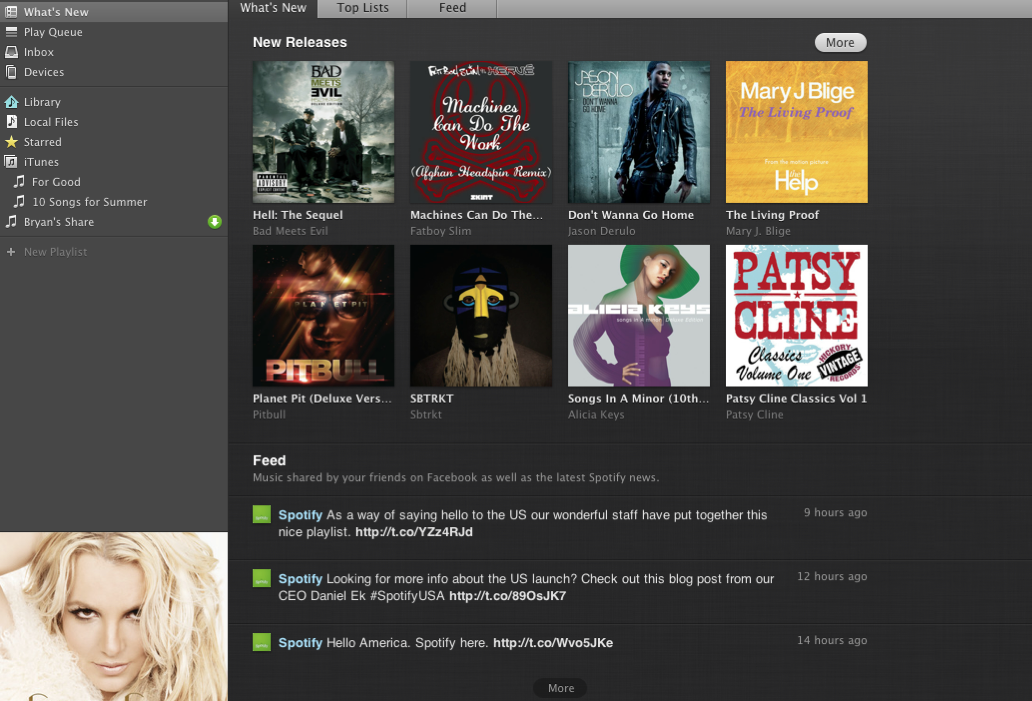 Spotify in 2011
Not only was this price increase long justified by both product upgrades and inflation, but similar price increases in mature markets around the world have shown to result in negligible churn.
Contrast to Netflix, whose Standard monthly subscription price has roughly doubled to $15.49 in the same period. And Netflix only gets you a subset of TV and movie content, so households pay many multiples of that to access everything. Spotify offers listeners unlimited music, podcast, audiobook content and more for $11.99, suggesting audio is markedly undervalued.
Moreover, there are 'superfans' of everything popular, especially music. On average, 2% of an artist's listeners generate almost 20% of their Spotify streams. Spotify's platform is uniquely positioned to connect an artist to their biggest fans, and the business has every opportunity to monetise that relationship directly, likely on an à la carte basis.
This could become increasingly important as AI further democratises music creation. More content means the per-stream split of profits from Spotify's subscription platform is spread across more artists.
As Taylor Swift and Beyoncé can tell us, music fans will spend many multiples of their annual subscription for access to their favourite artists, given the opportunity.
3. Spotify's bargaining power with content suppliers is growing
Spotify's bargaining power increases as their influence grows. Spotify has always paid out almost 70% of their streaming revenues to music labels, who share it with their contracted artists. Of course, without this music content Spotify would not exist. Only in the last decade have artists and labels so heavily relied on streaming to reach and grow their audience, most importantly Spotify.
A few major music labels own rights to almost all popular music. In the past, it was prohibitively expensive to professionally record music yourself. However, over time technology has increased access to music creation tools for independent artists around the world, slowly reducing the reliance on (and market share of) major labels. Entertainment data company Luminate have shown that only 4% of new music released comes out of a major label today.
Moreover, Spotify controls the user experience as the touchpoint between listener and algorithmic content. Therefore, the platform has power to push streaming activity toward the ever-increasing 'tail' of music not owned by major labels.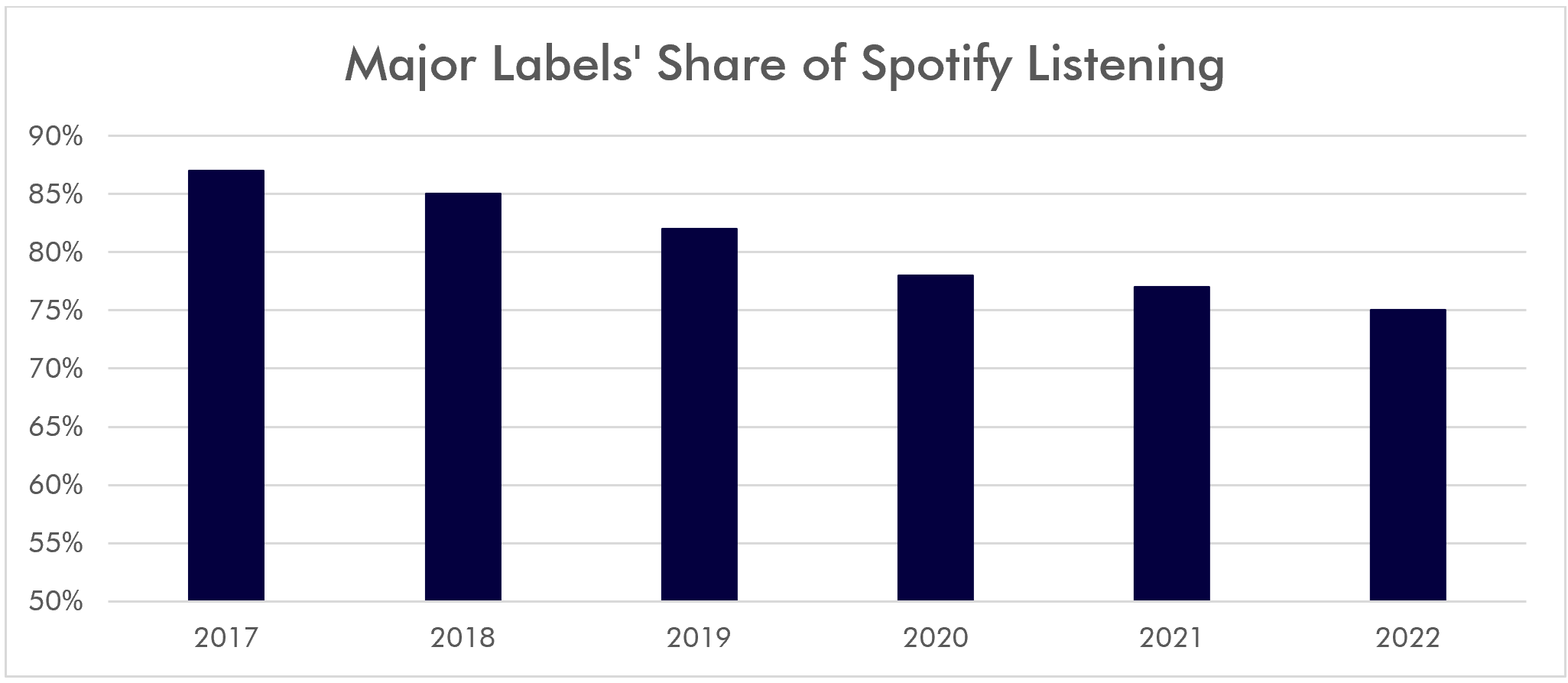 Source: Company; Major labels: UMG, WMG, Sony Music and Merlin
Understanding their unique ability to aid music discovery, Spotify quietly introduced Marketplace. Marketplace combines linear radio's pay-to-play and Instagram's algorithmic-targeted advertising – artists and labels can pay Spotify to ensure their music reaches the right audience.
Luminate estimate an average of 120,000 new tracks were uploaded to streaming platforms each day in Q1 of 2023, 28.5% more than in 2022. With this competition for ear time, labels increasingly have no choice but to pay for Spotify's unique discovery tools.
Marketplace revenue is recognised as a reduction to the near-70% royalty fees paid out to labels, so to Spotify it is incremental gross profit dollars. Marketplace gross profit represented about 8% of Spotify's total gross profit in 2022 and, even more importantly, it was less than 3% of the dollars Spotify paid to labels, so the pool is largely untapped. Given money spent on Marketplace is directly revenue-generating for artists, we believe most will find that they cannot afford to release music without it.
It is common to hear criticism of Spotify's inability to negotiate better terms from the labels; both sides will tell you the terms rarely change. We see the gross margin kickback from Marketplace as Spotify's carefully crafted answer to those critics. Over time, it will likely prove an important tailwind to Spotify's gross margin and, critically, an aspect of the business misunderstood by the market.
Source: Company, Market analysis
4. Earnings are expected to inflect significantly (while expenses fall)
Despite earning just 25% gross profit margin in 2022, Spotify is near breakeven profitability and earn positive free cash flow. We expect a meaningful inflection in operating earnings as revenues accelerate, gross margins expand and operating expenses are optimised.
Gross margins will benefit from continued improvement in advertising cost efficiency. The Spotify Audience Network is growing at over 10% quarter-over-quarter. When coupled with the recent acceleration in ad-supported listener growth, Spotify will earn increasing returns to scale as they optimise ad delivery. Going forward, the business will lean into further cost efficiencies by leveraging powerful generative AI tools to serve ads.
Marketplace gross profits of around €240 million in 2022 were hidden by a one-off increase in royalty payouts, which will be absorbed by late 2023. This alone would have boosted underlying gross profits by about 8% in 2022, expanding gross margins by almost 200 basis points.
Throughout 2023, Spotify have right-sized their workforce and real-estate footprint, optimised their marketing spend, and renegotiated expiring marquee podcast contracts. As a result, operating expense growth has rapidly decelerated in recent quarters to 13% year-over-year. However, adjusting for FX and the 14 percentage points of expense growth due to these one-time efficiency-related charges, recurring operating costs only grew 2% in Q2 of 2023.
Source: Company
As Spotify's cost lines flatten, revenue is expected to accelerate meaningfully, which suggests these incremental gross profits will fall directly to the bottom line. Reaping the benefits of a multi-year investment phase to expand globally, build a thriving podcast ecosystem and add an array of features to their music and advertising platforms, Spotify's highly engaged userbase continues to expand.
Spotify have added 87 million net global ad-supported MAUs in the past 12 months, recently accelerating to a 34% year-over-year growth rate. Monetising new users typically takes a few quarters and macro softness in digital advertising could reverse in a similar timeframe.
Coupled with growing adoption and sophistication of tools such as Spotify Audience Network and Streaming Ad Insertion, we see an inflection in advertising revenue approaching. Looking further forward, Spotify's ad-supported monthly active user (MAU) base acts as a highly effective funnel to convert users into Premium subscribers.
The vast majority of Spotify's 220 million Premium subscribers have just been asked to pay $1 more per month, which will become material revenue from Q4 of this year. Given how sticky Spotify subscribers are, if we assume 200 million are in markets paying the incremental $1, this will generate almost $700 million of incremental gross profit annually, all of which falls directly to Spotify's bottom line.
Towards 1 billion
Once a flywheel starts spinning, it is notoriously difficult to stop. We are confident that Spotify's is not only spinning but speeding up, and about to start generating significant cash flows for investors as a result. The company will continue their data-first approach to innovation, adding more content and features to their platform, investing and adjusting to meet artist and consumer needs.
At the same time, Spotify continues expanding their userbase toward founder-CEO Daniel Ek's 2030 target of 1 billion users, inputting ever more data to the flywheel.
Global music streaming penetration is just 10% today, and only 30% in major markets while expanding healthily. With over 5 billion smartphone owners expected by 2028, 1 billion Spotify users could turn out to be a modest target.
So, while Spotify's share price is well into a resurrection tour, we believe it will continue for some time.
---
Podcast: Join the Montaka Global Investments team on Spotify as they chat about the market dynamics that shape their investing decisions in Spotlight Series Podcast. Follow along as we share real-time examples and investing tips that govern our stockpicks. Click below to listen. Alternatively, click on this link: https://podcasters.spotify.com/pod/show/montaka
---
To

request a copy

of our latest paper which explores the empirical research around the

3 pillars

of active management outperformance, please share your details with us: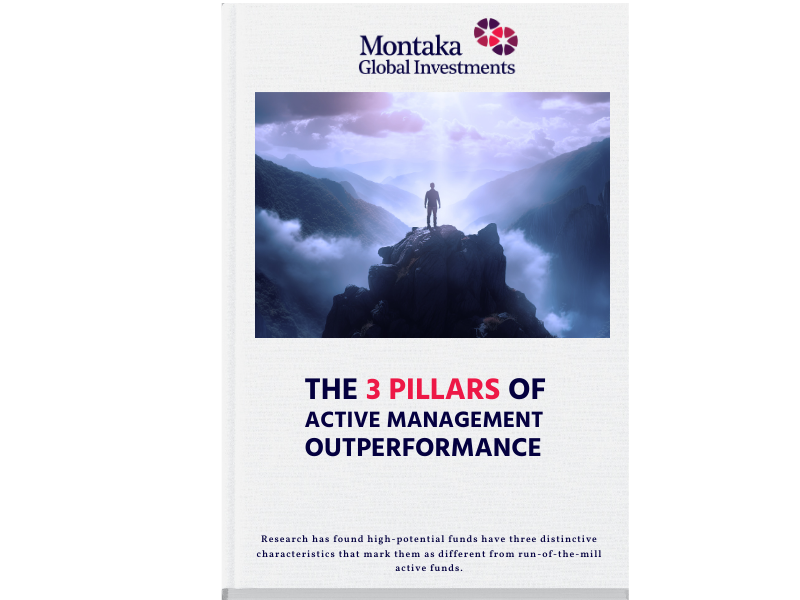 ---
Note: Montaka is invested in Spotify.
Lachlan Mackay is a Research Analyst with Montaka Global Investments. To learn more about Montaka, please call +612 7202 0100.