– Chris Demasi
As Mike Tyson said, 'everyone has a plan…until they get punched in the face'. That must be how a lot of investors feel just one month into 2022 after sharp falls in equity markets in January.
But this recent bout of volatility and market weakness should not be a time to be alarmed and bail out. Rather, it is an opportunity to make, and add to, investments in excellent companies in transformative marketplaces that will grow in value for years and decades.
Our key message as we start the New Year is to not forget the goal: compounding capital over the long term. That means staying the course and holding long-term winners and using the current near-term stock price weakness to buy the world's best companies that have outstanding opportunities.
Not taken by surprise
When we looked ahead to 2022, we acknowledged that while equity returns had been consistently strong for more than a year – markets traded 'up and to the right' for almost all of 2021 (and since March 2020!) and volatility remained low – we did not necessarily expect this to be the case going forward, especially with ongoing uncertainty around the COVID-19 pandemic, inflation and interest rates front of mind for markets.
So, we were not completely surprised at the sell off in equity markets that begin 2022. So far January is the worst month by far for global equities since the depths of the pandemic, but in these 22 months this is only the 6th negative month.
MSCI USD month-over-month return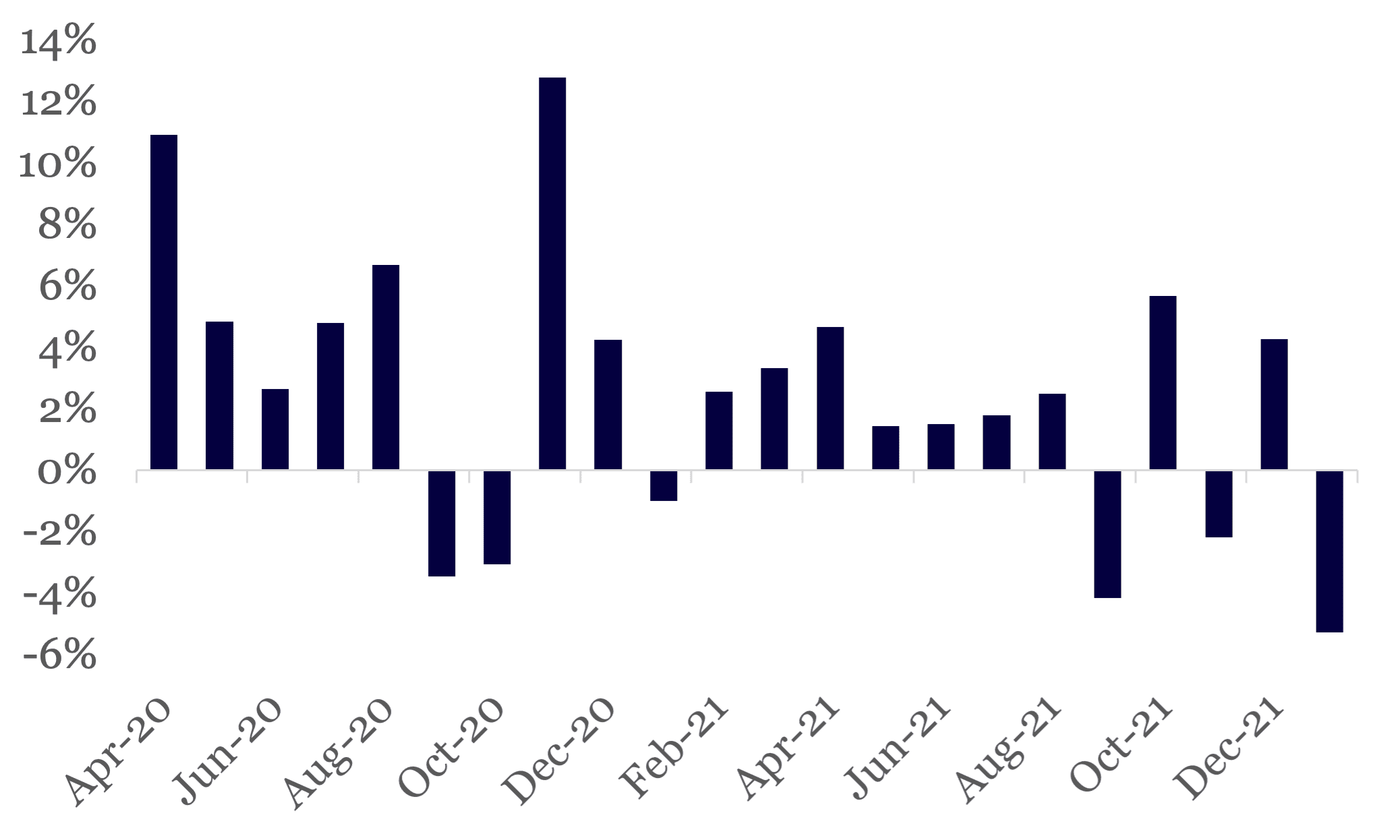 Of course, we could not predict this timing, nor can we predict the timing of any near-term rebound in equity markets. But we can be confident that the investments we hold will increase their earning power and value strongly in the years to come and investor returns will be even greater if additional investments can be made at even cheaper prices.
Still the best asset class
Looking across asset classes we believe equities represent the best return potential heading into 2022, and that equation has tilted even more in favour of equities now that stock prices have fallen. The MSCI and S&P500 trade at 18x and 20x respectively, down from 20x and 23x at the end of last year.
In return terms, that's an extra percentage point of current earnings yield. At the same time long-term interest rates are only up one-tenth of a percentage point.
So, the spread between interest rates and the return from owning equities has increased. Junk bond yield spreads have not increased as much. Moreover, the best equities have growth potential and options that rates and bonds will never have.
Super selective
The equities that have led the recent sell-off have been not just those with high growth, but the high-flying unprofitable growth stories without the same fundamental resilience that often back-stops sell-offs.
The Morgan Stanley unprofitable tech index is down 26% year to date, and numerous loss-making tech companies – many of which came public in the last year or two – have halved or worse from their all-time highs.
While some of these will be the winners of tomorrow, many will not prove themselves, or at least are a long way from proving themselves.
Great stocks on sale
When we look through our portfolio there are excellent opportunities to buy stocks at discounted prices that have gotten cheaper, even as recent reports show fundamentals strengthening.
This is especially true in the mega-cap tech space. For example, Microsoft is down as much as 14% by mid-January and is still off 8% or $US200b of value, even as management reported an outstanding set of results last week. Revenues of $52b were up 20% and profits of $22b were up 24%. And the two big growing cloud businesses are firing, with Azure growing 46% and Office365 growing 19%.
Microsoft Azure quarterly revenues and growth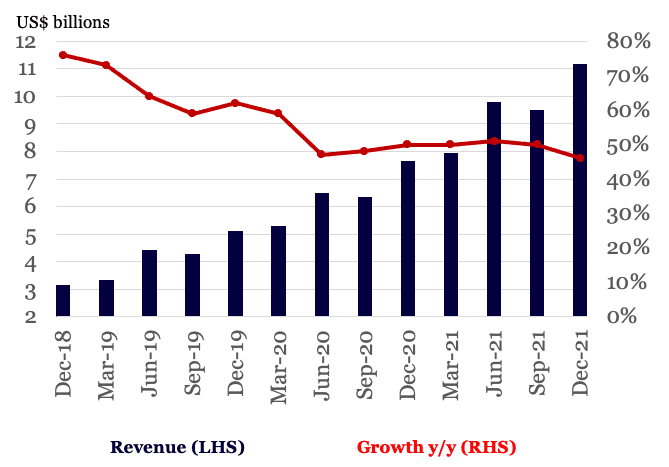 Yet following the earnings release the stock fell 5% in the pre-market with traders speculating on the market's next move. This quickly reversed and Microsoft shares finished up for the day. Microsoft stock now trades around 30x post-tax earnings, where it was almost three years ago.
There are others: Google is off 8% this year, Amazon is down 13% (back at mid-2020 prices), and Meta is down 10% (also mid-2020 levels). The Chinese stocks are up this year, though down significantly from all-time highs. Blackstone was down 15%, but even after rebounding, is down 4%.
Sticking with the plan
Despite the sharp sell-off, our game plan for 2022 hasn't changed. The key is to stick with global equities to reap their long-term rewards.
It never feels comfortable. But the risk is being out of the market and missing out on extraordinary gains. Research shows that when investors try to time the market, pulling out when they think things are 'toppy', or panicking when equities correct, they tie themselves up in knots and earn lower returns from equities.
Playing a long-term game is easier if you are holding businesses winning from durable transformations with valuations that don't reflect that potential.
That's the stuff you can hang your hat on, not just in 2022, but for the next five years or more.
Montaka is invested in Microsoft 
Chris Demasi is a Portfolio Manager with Montaka Global Investments.
To learn more about Montaka, please call +612 7202 0100 or leave us a line on montaka.com/contact-us