-Andrew Macken
There is no doubt that the world's annual $120 trillion economy increasingly depends on just six mega-tech businesses – Facebook, Alphabet (Google), Microsoft, Amazon, Tencent and Alibaba – to function properly. You would think they would continue to all be obvious inclusions in portfolios. But investors today have a menu of reasons to avoid or even sell mega-tech investments.
After a strong 2020, many investors are worried all the "easy money has been made" – a commonly used phrase we hear in our industry (which also suffers from acute hindsight bias). They're also worried inflation will drive interest rates higher and compress the earnings multiples of higher-growth businesses. Mega-tech investments also seem boring now – a surprisingly strong criterion some investors seek to avoid. And, of course, there are the never-ending headlines pointing to regulatory pressures across the sector.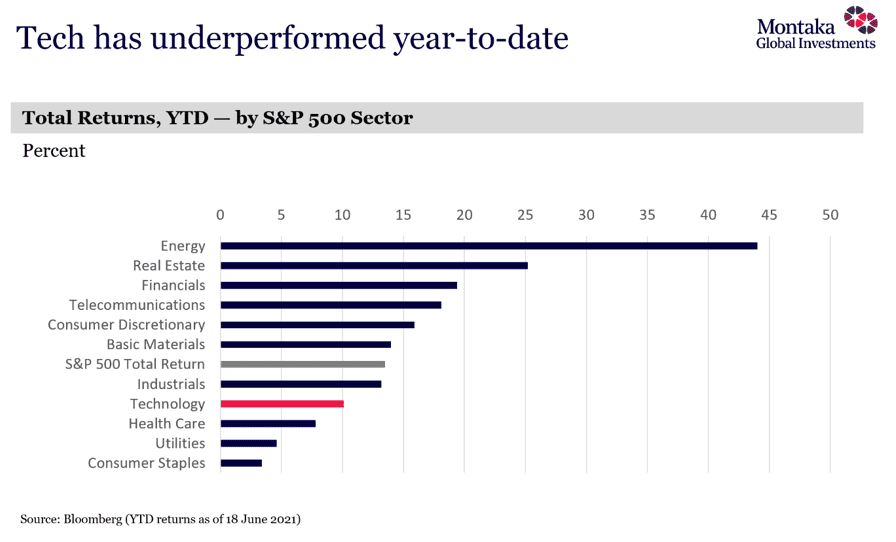 Yet our analysis shows that mega-tech stocks not only offer some of the best growth opportunities, but also offer some of the best 'value' opportunities in the market today. We see material upside in all six of these mega technology businesses. Given the combination of strong and growing advantages, enormous growth opportunities, and material undervaluation today, we believe these names should form – or continue to form – the core of any global equities portfolio.
Investors shouldn't rotate out of mega-tech to value because mega-tech are value.
At Montaka, our investment philosophy is to own long-term winning businesses operating in the world's most attractive markets, without overpaying. These mega tech businesses meet these criteria in the strongest way we've seen and they form the core of our portfolio.
Below we look at the top 3 reasons why mega-tech stocks are some of today's best value stocks.
1.     Mega-techs have the best businesses … ever?
The first reason is that the business quality of today's mega-techs is among the highest that humans have ever created. They dominate global data, benefit from enormous ecosystems, and have superior economics and scale. The huge cash flows and profits these businesses generate can be reinvested in new business opportunities, spurring fresh rounds of growth. These mega-techs all have a vast array of high-probability growth options in enormous new TAMs (total addressable markets).
Take Facebook, for example. More than 3 billion members log in and spend significant time each month on its platforms. It is unquestionably the world's best platform for marketers to reach customers. Facebook's revenues and earnings have been largely driven by the company monetising around 10 million businesses who pay for the company's digital marketing services. But approximately 200 million businesses use Facebook today, as well as another 200 million 'creators'.
Facebook is now investing heavily in its conversion and monetisation capabilities – particularly in eCommerce and creator monetisation tools – to unlock the enormous latent revenue opportunity of these currently non-paying businesses and creators. That gives us great confidence that Facebook's future revenue and earnings power will be multiples of its current levels.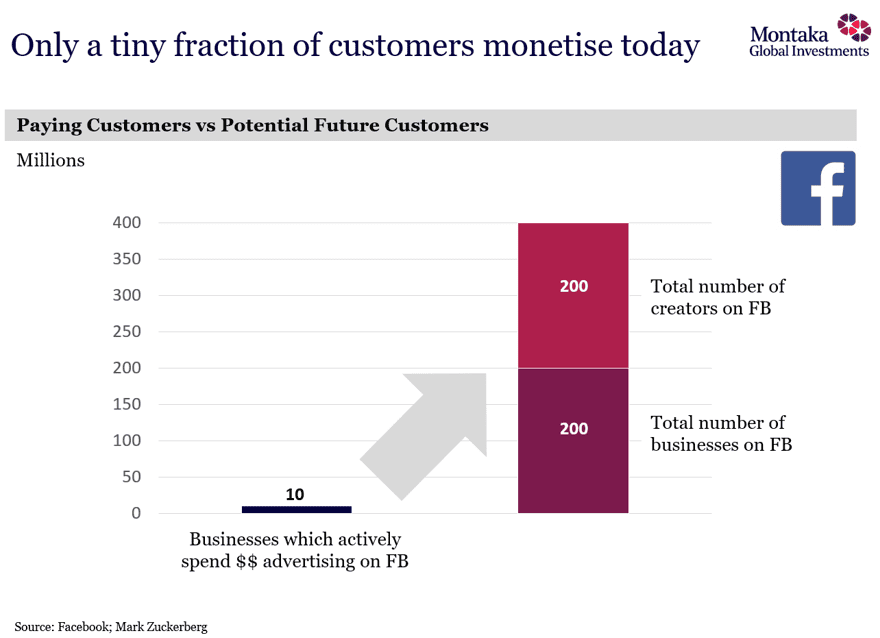 Alphabet is also leveraging its advantages in data, talent and time to become a clear global leader in artificial intelligence (AI), which will not only strengthen its existing advantages in its core advertising, cloud and productivity businesses, but will also create brand new businesses, such as Verily – which is leveraging Alphabet's data advantages to solve problems in life sciences and healthcare.
And, of course, one of the biggest areas of future mega-tech growth is the cloud. Amazon, Microsoft and Alphabet, along with Alibaba and Tencent in China, dominate the cloud. Microsoft CEO, Satya Nadella, estimates there will be approximately $8 trillion in incremental IT spend each year globally by 2030, of which cloud-based services and applications will no doubt claim the lion's share. For the leading cloud providers, their advantages in scale, data and customer captivity will only continue to strengthen over time. Said another way, this is a space for which enormous growth is largely assured and for which the winners have already been defined today. This means that the future revenues and earnings power of these businesses will also be multiple of their current levels.
2.     Inflation concerns are overdue
The second reason mega-tech provides fantastic value is that investors are too worried about inflation and what that could mean for interest rates and valuations. Over the first six months of this year, equities in the technology sector have underperformed the broader market largely because investors feared rising rates would slash tech valuations.
But those fears – and the sell-off – we believe are overdone. While we note the same strong headline inflation numbers as everyone else, we struggle to see an extended acceleration in core inflation.
For a start, over the short-term, there remains significant slack in the labor markets relative to pre-pandemic levels, which should limit the acceleration in wage growth. Secondly, our analysis of Chinese credit growth shows a clear and substantial slowing, which is a strong leading indicator for cooling global commodities demand growth over the next 6-12 months. We also expect structural disinflationary forces – such as aging populations, labor-disrupting automation technologies and global corporate and government indebtedness – to persist for decades.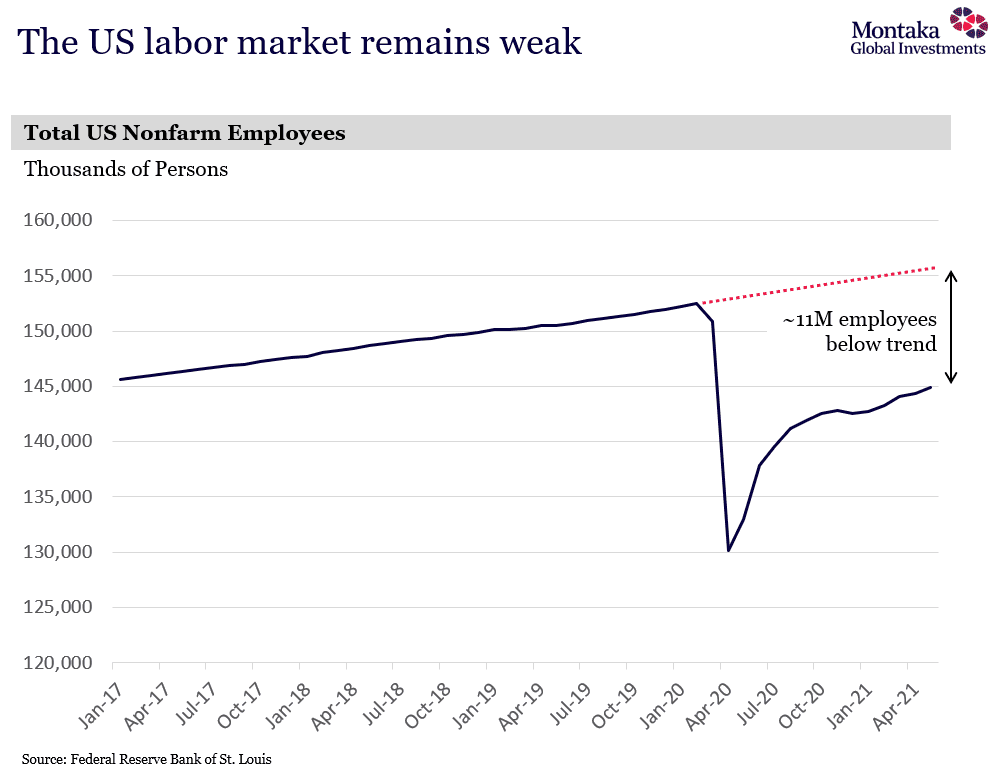 But something that has not yet been tested in any meaningful way is the pricing power of our mega-tech businesses. Should these businesses find it easy to increase their prices in an inflationary environment, then this goes some way to insulating investors from the negative effects of inflation. We believe the latent pricing power in these businesses is likely very strong – and in some cases, extraordinarily so. Take Microsoft 365, for example – arguably one of the most mission-critical software packages upon which many hundreds of millions of employees are reliant each day. This costs just US$32/month, vastly below any reasonable estimate for the value it adds, strongly supporting our latent pricing power hypothesis.
3.     Current valuations are way too conservative
The final reason that mega-tech stocks are great value is their attractive valuations. Our analysis shows that the expectations baked into the current stock prices of our big-tech names are far too conservative.
In the case of three dominant US cloud providers, Amazon, Microsoft and Alphabet, for example, their implied collective annual cloud revenues by 2030 are in the order of just $650 billion higher than current levels, according to consensus estimates. This is a tiny fraction of the $8 trillion increment that Microsoft CEO Nadella expects to accrue to the tech space over the next decade. If Nadella's forecast above is even remotely accurate, then these cloud providers will see much higher revenues (and earnings) in 2030 than what is currently being implied by consensus estimates.
Next, consider Tencent and Alibaba, the latter of which has of course suffered greatly from the Jack Ma saga, with the billionaire Alibaba founder's fintech Ant Group IPO pulled at the last minute and with Ma reportedly under serious pressure from Chinese regulators and Government. In both cases, despite owning some of the most valuable data ecosystems in China and South-East Asia – including being the two dominant cloud providers on the Mainland – their respective stock prices imply very conservative sets of expectations. Said another way, if revenue growth for these businesses were to fall from healthy-double-digits, to just single-digits by 2025, an investor today would still make money, based on Montaka's analysis.
And finally, in the biggest head-scratcher of them all is Facebook, which is priced at a forward earnings multiple of just 14x. Some of the businesses trading at a higher multiple than this today include Australia's Wesfarmers, Scentre Group, and plumbing parts supplier, Reece. At the current stock price, the market is effectively giving investors all of the upside from eCommerce, the monetisation of the creator economy, WhatsApp, Messenger and Reels, as well as Facebook's growth in VR/AR for free!
Spectacular potential
As the global economy grows, we are all becoming even more dependent on the highest-quality mega-tech winners.
Today, the collective revenues of these six businesses account for just one percent of global GDP. By 2030, global GDP will probably be around $160 trillion per annum, and these businesses will account for a much larger share than today.
When you combine a growing share of a growing economy, the future upside of these mega-techs is spectacular. Yet the market is underestimating that.
For the patient investor who can look through the short-term noise, the rewards will be substantial, and we believe these businesses are very strong candidates to form the core of any global equities portfolio today.
At Montaka, we will continue to own these businesses in size while their prices make sense. Patiently owning the winning businesses in the world's most attractive industries without overpaying is the way Montaka believes in safely compounding capital over the long-term.
Montaka owns shares in Amazon. Microsoft, Alphabet,  Tencent, Alibaba and Facebook
Andrew Macken is the Chief Investment Officer at Montaka Global Investments. To learn more about Montaka, please call +612 7202 0100.