-Andrew Macken
In a world of many high-flying, high-multiple, profitless tech stocks, it is rare these days to find genuine earnings growth at dirt cheap prices. And yet, the world's leading alternative asset managers appear to offer investors exactly this.
Take KKR, for example. Its assets under management – a primary driver of fee revenues – are increasing rapidly thanks to strong investment performance and new capital raised (shown below). And the fixed-cost nature of an asset management business means that strong revenue growth translates into even stronger earnings growth (i.e. profit margin expansion) thanks to the effect of operating leverage.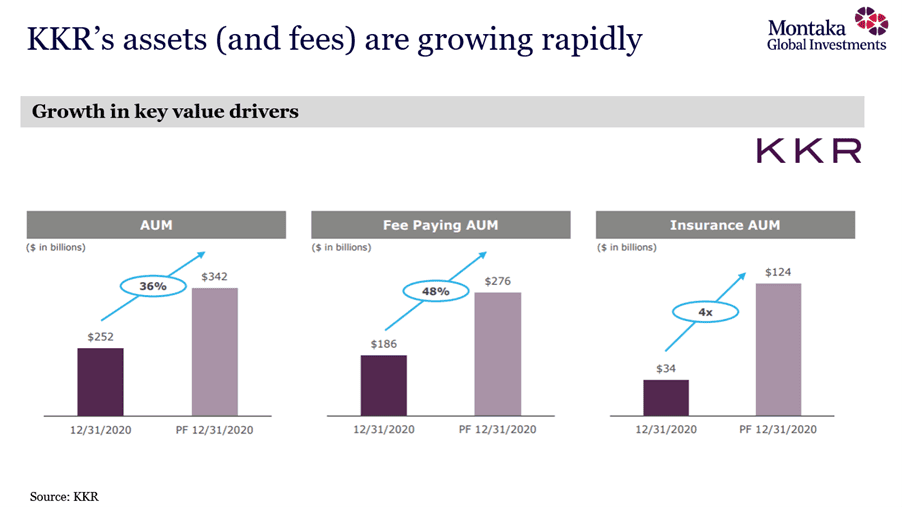 In the current buoyant stock market, one might be forgiven for expecting such a rapidly-growing earnings stream to be priced rather richly. And yet, this is not the case (today, at least).
KKR's stock price is about $48/share and, importantly, this includes approximately $23/share in book value. So, this leaves about $25/share as the value of the "earnings power" of KKR's actual alternative asset management business. What could this earnings power be each year? Well, KKR's CFO, Robert Lewin, told investors this week: "We see a clear path for FRE [Fee Related Earnings] to comfortably exceed $2 per share for 2022."
In earnings-multiple terms, KKR is being valued at just 12.5x Fee Related Earnings. And this is for an earnings stream that is growing rapidly. This is dirt cheap.
The environment is an attractive one for the world's leading alternative asset managers like Blackstone (NYSE: BX), KKR (NYSE: KKR) and The Carlyle Group (NASDAQ: CG). Low interest rates are driving asset price inflation (as we've written about here) and the hunt-for-yield is only intensifying. Asset managers – including endowments, pension funds and insurers – are increasingly turning to the world's largest and most sophisticated alternative asset managers to generate returns. And we see this trend only accelerating from here
The Montaka Global funds own shares in Blackstone (NYSE: BX), KKR (NYSE: KKR) and The Carlyle Group (NASDAQ: CG).
Andrew Macken is the Chief Investment Officer of Montaka Global Investments.
To learn more about Montaka, please call +612 7202 0100.